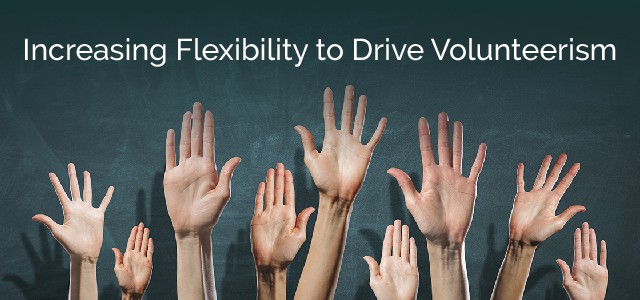 Increasing Flexibility to Drive Volunteerism
Estimated reading time: 3 minutes
---
Recruiting and retention look a lot different in 2021 than they did twenty years ago. In addition to an increased focus on company purpose and mission and the ability to work a flexible schedule from home (or anywhere), many employers are also offering an increasing amount of Volunteer Time Off (VTO).
Since our founding in 2014, Ad Victoriam Solutions, a Salesforce Consulting Partner and certified B Corporation, has always strived to be different, including offering an entire 40 hours of annual VTO. However, we found, like most companies, that not everyone took advantage of this perk. In fact, in both 2019 and 2020, only around 25% of employees utilized any portion of their one week of paid volunteer time. Sure, we still achieved our Pledge 1% commitment to donate 1% of employee time back to the community, but we knew we could do better.
As we spoke with employees, we found three contributing factors: the overwhelming lack of weekday volunteer opportunities, the business demands of the workweek, and the difficulty of finding an opportunity that included their biggest passion: technology.
The Plan
We set a 2021 goal to double our employee volunteerism rate and we made some changes. For starters, employees could volunteer on the weekend and count it towards their work-week expectations–volunteering no longer had to be done during work hours to count. We also opened it up to non-traditional volunteering, like chaperoning field trips and helping out with little league practices, encouraging parents to spend more time outside of the office and with their children.
In addition, we launched a training program with Goodwill of North Georgia that allowed our employees to volunteer their technical skills and expertise to teach Salesforce® to adults transitioning into tech careers. We also added an experiential component to the program, pairing employees with students to implement Salesforce's nonprofit success pack for four deserving organizations.
The Results
As of mid-November, we were on pace to see almost 60% of our staff use their paid VTO to give back to their communities. And that 1% target? Between the volunteer time (on pace for 1,600 hours) and our pro bono Salesforce work, we're going to double our goal and donate 2% of revenue in the form of employee time.
So, as we begin to lay out our plans to eclipse our 2021 results in 2022, we're confident – in hindsight- that increasing our flexibility as a company really did drive overall team volunteerism. And all it took was small changes to attain those significant results… an impactful reminder of the importance of listening to our employees.
Questions about our company-wide volunteer efforts? Reach AdVic here.
More Social Impact Blogs from AdVic
Follow in a Reader