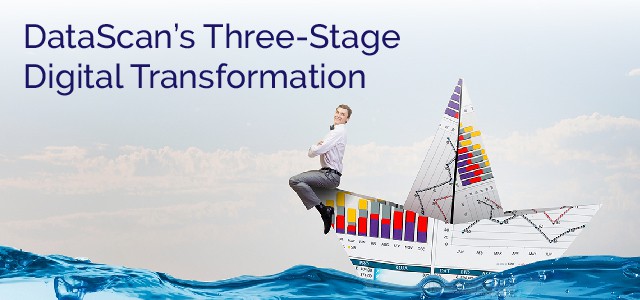 DataScan's Three-Stage Digital Transformation
Estimated reading time: 3 minutes
Earlier this year, Ad Victoriam Solutions, along with The University of Georgia's Terry College of Business, hosted a Digital Transformation Symposium, where Brian Johnson, DataScan's Director of Client Success, spoke on how his company underwent its digital transformation. During Brian's session, he talked about winning over their stakeholders and users and advancing the plan by following a three-stage approach. Here's how it went…
DataScan, known as the industry leader in commercial lending and inventory risk management solutions, made a significant change in how they supported, communicated, and interacted with customers when they underwent their digital transformation. By connecting siloed systems across their company, they put the pieces together to redefine the customer experience.
The adoption of new technology comes with great benefits. Sometimes that is efficiency, innovation, or keeping up with trends. For DataScan, it was all of the above. Digital transformations alter the operation of business' workflows, systems, cultures, and so much more for the better. As for DataScan, they leaned heavily on their legacy system.
This led to some very tedious processes that warranted swiveling data back and forth between different systems in an effort to track the status of support cases, account management and communications. They needed a single source of truth to manage the service, sales, and marketing departments in one platform. They struggled with employee collaboration, external communication and dashboard reporting.
Realizing the vision for new technology seemed easier than it was. Technical and organizational complexities were intimidating. However, with an outlined strategy, project transparency and focus on the end state, DataScan underwent a successful transition.
And with high hopes ahead for their Salesforce org, DataScan's vision was to move all customer data to Salesforce to develop a 360-view to enable high-quality CX and personalized experiences.
In doing so, winning over their stakeholders and users and advancing the plan required an orderly and smart approach.
Stage One: Initial Stakeholder Buy-In
Stakeholders are essential members of large projects, especially digital transformations. They are the board members, leaders of departments, employees, customers, and supporters of your organization. Stakeholders may agree or disagree on decisions made by leaders, but the goal is unity.
As a team, they concluded their systems needed upgrades, data migration, a community unique to them, Experience Cloud

™

and Service Cloud

™

. All of which catered to their customers and met their goals. They were able to have a platform that enables them to store and manage customer data.
Stage Two: Outline a Plan That Works
During the planning phase, they designed their solution to be fully functional and aligned with their goals.
Engaging with clients in a consistent manner is pivotal in their success, so undergoing a digital transformation that connected silos within their business was a priority. Communicating with clients in a cohesive, unified way was the objective of their client-facing digital transformation.
Stage Three: Focus on Adoption
Collaboration was key.
Throughout their progression of implementing, supporting and promoting their efforts, collaboration allowed teams to adapt to the new system. Investing in technology is a huge commitment, however, building relationships and loyalty in customers pays off which was their goal.
If your company is struggling with growth or it takes numerous team members to execute manual processes that could be solved with automation, it's time to consider a digital transformation…and it doesn't have to be a difficult process. Let AdVic show you how.
Digital Transformation Resources:
Watch Brian Johnson's April 2021 Digital Transformation Symposium Presentation
Digital Transformation 101: Your Questions Answered
Five-Steps to a Successful Digital Transformation
Preparing for a Digital Transformation
Follow in a Reader