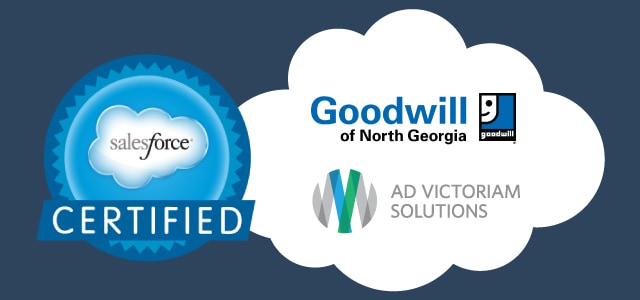 AdVic and Goodwill Team Up for Salesforce Training
Estimated reading time: 3 minutes
AdVic and Goodwill of North Georgia recently partnered to provide a unique training program for residents of Athens-Clarke County, GA. The 12-week program taught participants the basics of Salesforce® and prepared them for a career in the growing technology industry.
The first cohort of students consisted of 10 participants with varying professional backgrounds who are looking to pivot from a job to a career, as well as significantly increase their earning potential. Salesforce is the global leader in CRM (customer relationship management) software, controlling around 20% of the market share, with some figures estimating that over 90% of Fortune 500 companies currently use the software. As such, the ecosystem is a rich source of high-paying jobs where demand for skilled workers often outpaces the supply of talent.
Making a Positive Impact
The AdVic Team saw this challenge to work with Goodwill as an opportunity to make a positive impact on multiple fronts. With the right attitude and drive, we know anyone can develop the skills to work on the Salesforce platform in high-paying jobs. And it's a fact that these days employers are caring more about the ability to configure and build than they care about traditional employment requirements, like years of experience or formal education.
And that thinking aligned perfectly with Goodwill's mission to put people to work.
"Programs like this one, and partners like AdVic, provide job seekers with the training they need to transition out of simply 'a job and a paycheck' and into a career," remarks Alicia Battle, Goodwill's Director of Workforce Development. "At Goodwill, we consistently study workforce trends and data to ensure our programs are meeting the demands of the job market and preparing our job seekers for high-growth industries. We understand the value of technological skills for the workforce of today and for the future. We look forward to helping this cohort of students begin to build a successful career."
Just Getting Started
While the scale of this initial program is small, there are ambitious plans to increase the class-size and offer it throughout the year, meaning more and more high-paying jobs being created for area residents. "Innovative public-private skills training partnerships like this develop Athens' home-grown technology talent base and increase community members' access to jobs offering higher wages and benefits," said Ilka McConnell, Director of Economic Development for Athens-Clarke County, "which also helps us as a community to attract and retain technology companies here in the Classic City."
This program is a creative solution to multiple problems, and demonstrates the combined powers of collaboration and action. Together AdVic and Goodwill are helping local residents launch a career in technology, filling a supply void in the industry and giving back to the community. Together, we have the power to effect positive change.
Ad Victoriam is a Salesforce and MuleSoft® Partner who provides multi-cloud consulting services, from strategy to implementation. Our nimble team of certified professionals across the United States accelerates businesses by simplifying complex problems through cloud and data expertise. As a Certified B Corp – and a founding member of B Local Georgia – we balance purpose with profits and have made a strong commitment to the community. If you're interested in talking about your nonprofit and its tech needs, contact us here.
Read More Social Impact-Themed Blogs from AdVic
Follow in a Reader