Get Your First B2B Online Order Within Weeks
Let's get right to it. We're all working hard to generate revenue this year so we can achieve top-line growth. With more people social distancing, shopping online has become even more attractive. Time for all businesses to launch (or enhance) an online store filled with products they already offer. Many believe that it is a long-haul to get an online store from concept to income-generating, but it's not…
The Highlights of B2B Commerce
Eliminate manual pricing calculations
Increase the velocity of order fulfillment
Automated approval processes
Integration with ERP, UPS/FedEx, tax calculators, and more
Eliminate manual pricing calculations
If you've ever wondered what a Salesforce® B2B Commerce solution actually does for your business, it's this:
B2B Commerce displays your product catalog in a branded eCommerce storefront and allows your customer base to place an order independently. Complex pricing models can be configured to match your current business rules and enable contractual agreement tracking for product entitlements and price points. In addition, you can capitalize on B2B Commerce's target marketing functionality that provides customers with a tailored, engaging shopping experience. And best of all, B2B Commerce is a flexible solution that scales as your business grows.
Get an eCommerce Jump-Start with B2B Commerce Accelerator
As outlined above, B2B Commerce displays your product catalog in a branded storefront, allowing your customer base to place an order independently, and that gives your sales teams more time to focus on…wait for it… SELLING!
And with AdVictoriam's B2B Commerce Accelerator, an out-of-the-box package, you'll get your business online selling your products or services within two to four weeks, rather than months.
The Accelerator package includes a branded storefront, product listings, pricing, cart for processing returns, email templates, reporting, and more.
B2B Commerce Accelerator Benefits
New sales channel that drives new revenue with little maintenance and manual intervention.
Replaces the need for sales teams to take orders from existing customers.
Built on a CRM system, it integrates all data points, including pricing, for a 360-degree view.
Offers a flexible pricing model based on group and customer type business rules.
Data reporting to drive business, sales, and service-related decisions.
Quick implementation and modifications of storefront without IT assistance.
Ad Victoriam's dedicated B2B Commerce team will apply their knowledge and passion to your challenges. Whether you are migrating from a legacy eCommerce solution or just starting to dip your toe into the eCommerce world, our team has the skills and expertise needed to get your top-notch branded storefront up and running quickly with our B2B Commerce Accelerator so you can drive new revenue. Let's talk!
Watch AdVic's "B2B Commerce: The Online Sales Advantage" Webinar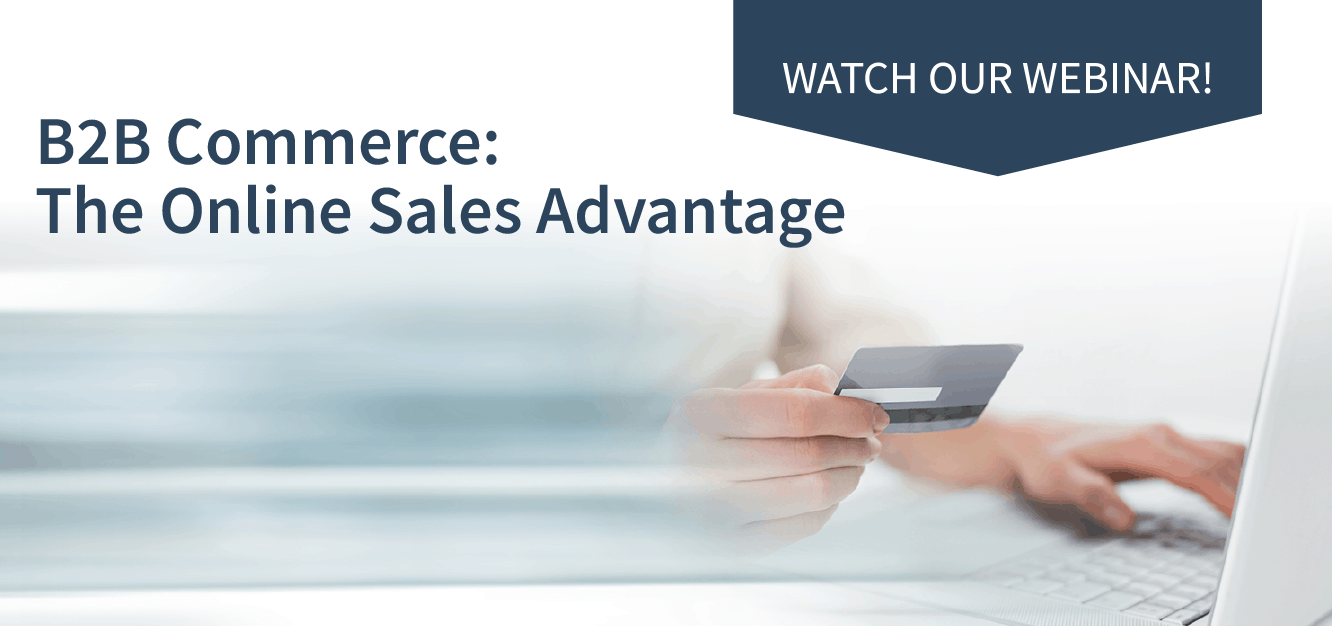 Related Stories
The ABC's of B2B Commerce
B2B Commerce Solution Nets Significant ROI
Listen to Ad Victoriam's "Salesforce Simplified" Podcast: "Introduction to Salesforce's B2B Commerce."
Subscribe in a Reader