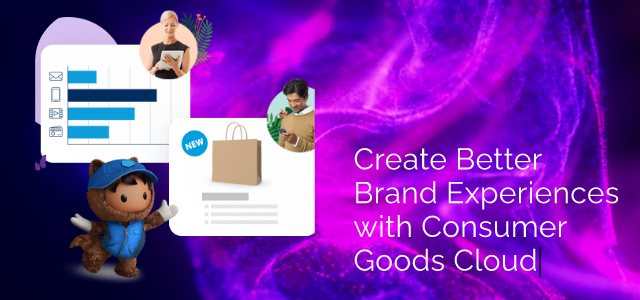 Create Better Brand Experiences with Consumer Goods Cloud
Estimated reading time: 3 minutes
Not sure what Salesforce Consumer Goods Cloud™ is, and if it makes sense for your particular business? Well, you come to the right place and we will be answering both of those questions – and more – here.
First, What is Salesforce Consumer Goods Cloud?
The traditional consumer products distribution strategy has traditionally been centered on face-to-face contacts. However, today brands want a way for sales teams to know exactly how their items are selling, what inventory is needed in their store, and which locations are in need of a field reps' attention. In addition, brands must also assist field teams by providing task management solutions that allow field reps to execute and audit precisely and in real-time while on the job. This is exactly why Salesforce Consumer Goods Cloud was created by the #1 CRM solution provider, Salesforce®.
Under the hood, Salesforce Consumer Goods Cloud is a bundle of cloud software products with capabilities that help brands and retailers manage their operations and increase sales. Specifically, it includes the best of Salesforce's Sales Cloud™ and Service Cloud™, but it's packed with industry-specific extras like an extended data model and specialized mobile app.
The platform also allows you to create a comprehensive and consistent consumer profile across all touch-points, with real-time insights that go beyond purchase history, including demographics, location, and more. 
The 4 Main Benefits of a Consumer Good Cloud Solution
Your goals are to attract customers, win loyalty, and empower your teams. And with a Consumer Goods Cloud solution you will:
Improve store visit efficiency:
Work more effectively by integrating data from any source. Design plans, improve visits, and track teams with increased visibility of data across your business.
Maximize sales productivity:
Schedule visits, automate repetitive tasks, and get a 360-degree view of customer information on the mobile app.
Succeed at the shelf:
Ensure the right product is on the right shelf at the right price with offline order management and penny perfect pricing.
Improve order fulfillment:
Get full visibility into order and fulfillment data so you can prioritize deliveries, track your fleet, and reroute based on business needs.
Why Consider Consumer Goods Cloud?
If it's important for your business to address the extraordinary challenges companies face today – things like increasing competition, the need for consumer goods companies to create a unique brand experience that includes personalized experiences with customers by seamlessly blending physical and digital worlds while retaining full control of their data – then Salesforce Consumer Goods Cloud was definitely created for you.
Further, Consumer Goods Cloud helps consumer goods companies to turn every store into the perfect store by putting the right data in the hands of every rep in the field. AI, automation, and guided selling helps field reps speed up operational activities, so they can devote more time to building relationships, earning customer loyalty, and driving sales. With flawless retail execution, the in-store brand experience for consumers is elevated as shelves are always stocked, pricing and promotions match expectations, and marketing and merchandising are perfectly aligned.
The AdVic Consulting Team – which is 100% U.S.-based and works on your hours – is skilled in the implementation of Salesforce Consumer Goods Cloud and has the ability to expertly guide your team with the right advice and customized solutions to help them utilize their data more efficiently and effectively. Together, let's get to work today!
Related Resources:
Enhancing Customer Experience Through Digital Transformation
Top Brands Use These Components to Create an Effective Customer Experience
Subscribe to the AdVic Salesforce Blog on Feedly: