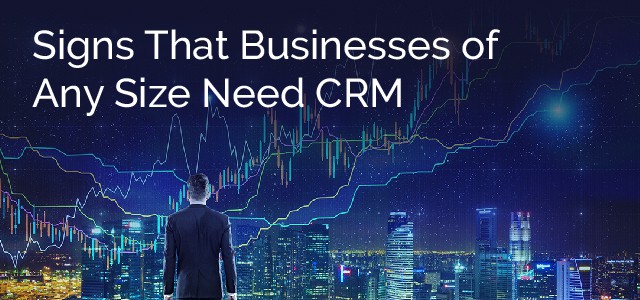 Signs That Businesses of Any Size Need CRM
Estimated reading time: 4 minutes
At AdVic, we seem to get this question every day: Is CRM worth it for my business?
In a word, yes! If you have customers, you can benefit from CRM (Customer Relationship Management), a methodology and system that helps businesses and organizations of any size track and manage information about prospects, leads, opportunities, customers, and clients.
Even if your customer base is small, no one can keep every interaction — ones that have already happened, or need to happen — memorized and organized. CRM is a powerful business tool that streamlines processes, gives valuable business insights, and virtually connects employees at your company so they can collaborate as a team, in real time.
What are the Different Kinds of CRM Solutions?
Though there are many CRM providers, there are two main types of CRM solutions that companies can choose, depending on their needs and budget.
On-Premises CRM:

Housed at the location of the business that uses it, on-premises solutions require the up-front purchase of servers or datacenter equipment and the installation of CRM software and middleware by IT staff. It also requires IT for ongoing maintenance and updates. In some cases, you may even need to build the software yourself.

CRM in the Cloud:

Cloud-based CRM solutions –

such as Salesforce

– provide solutions through any browser or mobile device and are instantly scalable, requiring no on-site IT staff. Essentially, CRM in the cloud allows you to pull up a login page through a browser like Chrome, Microsoft Edge, Safari, or Firefox. You simply log in with a username and password, and your CRM is right there. Even better, the mobile functionality of cloud CRM solutions has cut the tethers for reps and managers on the go.
Signs You Need CRM
If you're not sure if your business would benefit from CRM, below are some clues that can help your business find, win, and keep customers more efficiently:
You have teams that work closely together, even when not actually together.

Your sales teams are often on the road.

You are unable to quickly find or view complete customer data to make decisions fast.

You feel deals are falling through the cracks because you're managing things in spreadsheets, notebooks or in a siloed system.

You have a patchwork of apps that you "call" CRM, but they are not really connected on top of a single database or "system of record."

Your business is growing more quickly than you feel ready for.

You know that your business' customer service experience is lacking or you are losing more customers because of service issues than you'd like.

You or your IT department is buried with maintenance requests.
How CRM Will Keep Your Customers Happy
With solutions that range from self-help pages (that allow agents to focus on the tough cases), to full call centers, CRM brings immense value to customer service teams. Your service reps can also use it to generate service tickets and keep track of all your customers' contact with your service department. And, because the entire system is connected, account reps and every other relevant department will be fully aware of customers' issues, so everyone can be a service agent when you need them to be.
Insights about customer service issues can be shared and added to a knowledge base so that agents can help customers even faster. In addition to shortening case resolution time, this kind of connected service also makes agents happier. It all comes down to giving them the tools to do more for customers — which in turn drives customer loyalty and referrals.
Adding a CRM can serve as a key driver of digital transformation for any size business, and the Salesforce® consulting team at AdVic has years of experience implementing and integrating systems with great success. We're excited to help you get there! Let's get to work together today!
Related Resources:
Tracking People, Places and Things with CRM – Podcast
Driving Sales Efficiencies: A CRM Utilization Guide
4 Ways Salesforce CRM Improves Lead Conversions
Follow in a Reader