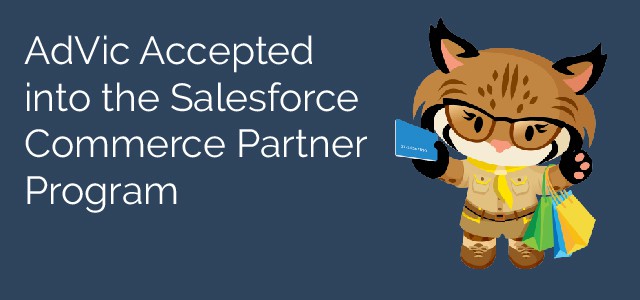 AdVic Accepted into Salesforce Commerce Partner Program
Estimated reading time: 2 minutes
Ad Victoriam Solutions (AdVic), a Salesforce Partner, is excited to announce that we have been accepted into the Salesforce Commerce Partner Program. With a vast amount of experience in the rest of the Salesforce® ecosystem, we are thrilled to continue to work with Salesforce and help grow Digital Commerce opportunities in 2021 and beyond.
The global eCommerce market is expected to hit $18.89 trillion by 2027 and we want to make sure your company is not left behind.
At AdVic, we like to be on the forefront of technology and innovation. By partnering with Salesforce, we are enabled to do so. Salesforce Commerce Cloud™ (SFCC) has a proven record to power eCommerce brands and predict the scalability and future success of your business.
Salesforce Commerce Cloud (formerly Demandware) has a long history of being the market leader when it comes to Direct to Consumer, taking the old-world clunky solutions and blasting past them becoming the dominant force in the eCommerce world.
Salesforce's leading B2C eCommerce solution maximizes conversions across all digital channels — online, mobile, social, and more. The digital commerce platform simplifies the way brands create, launch, and maintain multiple sites by using a single system to manage all customer engagement channels.
Through personalization powered by next-gen AI, SFCC also gives you the power to create unique experiences tailored to each customer. B2C eCommerce software even extends into the store, maximizing conversions by providing sales associates and shoppers with access to online inventory via mobile app.
Many companies today are struggling with meeting customer desires and are especially challenged by legacy systems, and the disconnection between sales channels. Reaching buyers where they want to make the sale can happen with a fully integrated eCommerce platform and the AdVic Commerce Team is standing by to guide you through the process. Contact us today!
Related Articles and Resources:
Sales is Not a 'Churn and Burn,' It's a Partnership
Turn Sales Into Selling Machines, CRMs, AI, and More
AdVic Customer Success Stories
Follow in a Reader