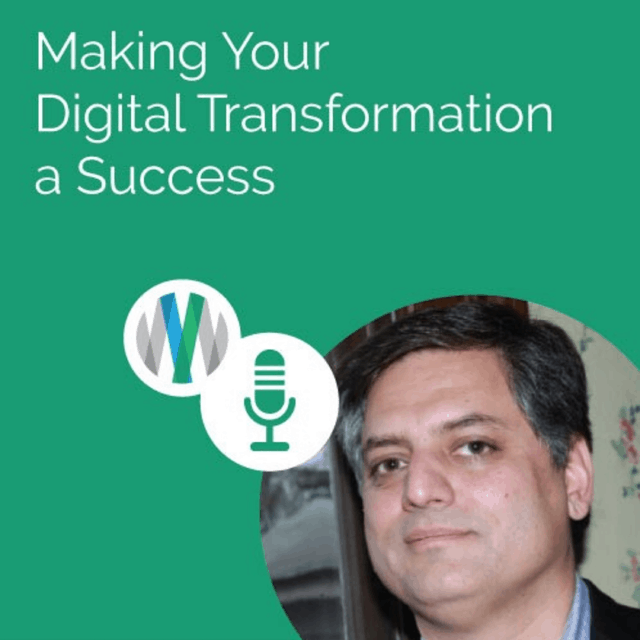 Making Your Digital Transformation a Success
A conversation with Ali Davachi, CEO of the Boulder, CO-area tech consulting firm Realware (https:www.realware.com). Ali offers tips on avoiding digital transformation project failures (like having a healthy company mindset and culture), and how to make your project a success.
Episode Notes
Digital Transformation Resources:
Getting Started with Digital Transformation
https://bit.ly/3uoE9G0
Digital Transformation 101: Your Questions Answered
https://bit.ly/3cAgI6a
Preparing for a Digital Transformation
https://bit.ly/2XWKZDD
Episode Transcription
Mike Boyle:
Well, hello everyone, and welcome. Today, we'll be talking with Ali Davachi, who is the CEO of Realware, and we're going to be talking about digital transformations and how to make yours a success.
Before we get started, a little bit about Ali. As a self-admitted serial entrepreneur, Ali has over 25 years of hands-on experience with all facets of complex technology implementation at scale. Ali has led and delivered projects in fortune 500 firms spanning healthcare, consumer products, financial services, and direct to consumer pure plays with large volume mobile, payment, e-commerce, telecommunications and customer facing applications, and all that just makes him the perfect person to talk about making your digital transformations successful.
Hi Ali. I really appreciate you joining us today.
Ali Davachi:
Hi Mike. Thanks for having me.
Mike Boyle:
We're going to just get right into this, because I know this is a big subject for a lot of businesses these days. Ali, from your experience, why do digital transformation projects fail?
Ali Davachi:
I think across all the different industries that we're involved in; the most common issue is not defining the outcomes clearly. Not technical outcomes, but the desired business outcomes, the why of the project itself. You can pretty much draw a line from each of those failures to the lack of that clear understanding. If you have that outcome clearly defined, and you're communicating that throughout your organization, then digital transformation or transformation of any kind frankly, becomes far easier to implement and continue to use on a day-to-day basis.
Mike Boyle:
When do you think that a business should consider a system upgrade or a digital transformation project?
Ali Davachi:
That's a great question, Mike, because I feel that system upgrade and digital transformation are really not the same thing in many cases. I think you can actually execute a successful digital transformation without a system upgrade, but that all depends on what your outcomes are and what your total goals are to serve your customer base. For example, if you're trending to a younger, more digitally savvy customer base, then you may need to do that upgrade that you mentioned because you need to meet your customer where they are.
I think a lot of businesses today, particularly after the last year of the pandemic have had a big struggle meeting customers where they are. We've helped a lot of businesses here in the area to make that transition through using additional digital tools and upgrading systems so that they can present those online presence or mobile presence to that customer and not force the customer into the presence that they want to have. Let's say for example, a front door. That's the thing that you feel like is the most important thing.
Separate the two first. Separate the digital transformation from the system upgrade. And then once you've defined what it means to transform your digital presence or to create even a digital presence, then you can start looking at your systems and decide where does that spend make sense, where does that upgrade make sense.