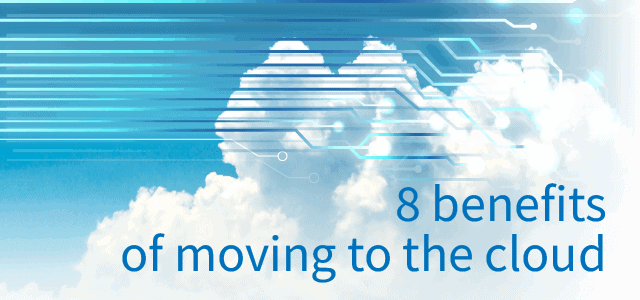 8 Benefits of Moving to the Cloud
With the cloud, end-users and your teams are able to access software and applications from wherever they are, using the device of their choice. They can work from anywhere.
If your business has yet to tap into the power of the cloud, these eight benefits of cloud computing should change your mind.
Reduce Expenditures, Increase Efficiencies
Migrating to the cloud reduces – and in many cases – eliminates the need for your business to purchase equipment and operate out of a data center. Now, you are seeing significant savings on hardware, facilities, utilities, and other expenses required from traditional computing. You will also reduce the need for on-site servers and expensive software, trimming your IT budget further.
Flexibility
The cloud gives you and your employees the flexibility to work from any location. Employees can complete their tasks at home or from the field. This is particularly valuable in an era when employees desire flexibility in their schedules and work environment. You can also reduce the number of workstations in your office and allow some employees to work from home, further saving costs.
Increase Collaboration
Cloud-based workflow and file-sharing applications give your teams the ability to work together more easily and efficiently. Employees can make real-time updates, see what other team members are doing and communicate effectively. This level of collaboration speeds up projects and improves customer service.
Disaster Recovery
Hosting systems and storing documents on the cloud provides a safeguard in case of a disaster. Man-made and natural disasters can damage equipment, shut off power and paralyze critical IT functions. Supporting disaster recovery efforts is one of the important advantages companies attain when they move to the cloud.
Data Security
It's just a fact that storing data on the cloud is safer than storing it on physical servers and in data centers. Think of it this way, a breach of security on your premises can lead to compromised data security if laptops or computers are lost or stolen. However, if you have data on the cloud, you can immediately delete any confidential information remotely or move it elsewhere. It's also a fact that breaching security protocols on cloud platforms is difficult.
Document Control
The more your employees and partners collaborate on documents, the greater the need for tight document control. Prior to the cloud, you and your employees sent files back and forth as email attachments to be worked on by one user at a time. More often than not, that ended as a mess of conflicting file content, formats and titles. However, when you move your business tasks to the cloud, all files are stored centrally and everyone sees the one up-to-date, true version of the file or document.
Automatic Software Updates
With your servers off-site and in the cloud, your hosts take care of them for you by taking charge of regular software updates – including security updates – so you don't have to worry about wasting time maintaining the system yourself. That leaves you free to focus on the things that matter, like growing your business.
Compliance Needs
If your industry, for instance, is healthcare or financial services, ensuring data compliance is essential for your business. Moving operations to the cloud ensures that your business is using cloud-based tools and services that are already compliant, helping to remove some of the burdens of compliance from your IT team.
No doubt there are many more benefits of moving to the cloud that are not listed here, but these are some of the big ones.
Ad Victoriam has helped bring big changes to businesses all across the country. Contact us today to learn how we can help your business migrate to the cloud with little-to-no impact on daily operations, but a serious boost to your bottom line.
Subscribe in a reader