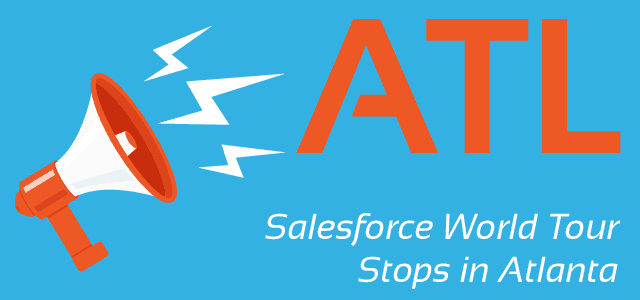 Salesforce World Tour Stops in Atlanta
Do you live in and around the Atlanta, Georgia, area – or plan to be – on Wednesday, September 18, 2019? If so, you will not want to miss the opportunity to join Salesforce® and the Ad Victoriam team at the Salesforce's World Tour Stop at Atlanta's Georgia World Congress Center. The day will be packed with learning, innovation, and inspiration, and an evening sharing laughs, best practices, and business experiences that have led you to the success you're experiencing today.
During the Day
Salesforce has planned a day filled with opportunities all centered on learning how to connect to your customers in a whole new way using the power of Salesforce Customer 360. The day will feature informative speakers, hands-on sessions, keynotes, networking, and more.
In addition, you will get the latest Salesforce announcements and engage with the latest innovations, including Salesforce Customer 360 and Einstein Voice, and how those solutions help you create a complete view of your customers, connect to those customers using intelligence, and work together faster than ever before.
You will also have the opportunity to interact with innovative businesses like yours, and learn how they are using Salesforce products to connect to their customers, helping them to succeed.
Get your free registration for Salesforce's World Tour Atlanta here.
Get the Most out of Salesforce World Tour
Think about your technology challenges, business goals, and future strategy. We'd be happy to set up a meeting to chat at the World Tour to further your education on optimizing your Salesforce Platform. Reach out to Chris.Fraser@AdVictoriamSolutions.com and he'll contact you to see how we can help or simply get you on the right path.
The Ad Victoriam team is a group of top cloud and data experts who work across a spectrum of leading-edge applications and technologies to help companies like yours solve critical IT problems, quickly, simply and efficiently. If you are ready to accelerate your business through technology, we're ready to speak with you now.
Subscribe in a reader