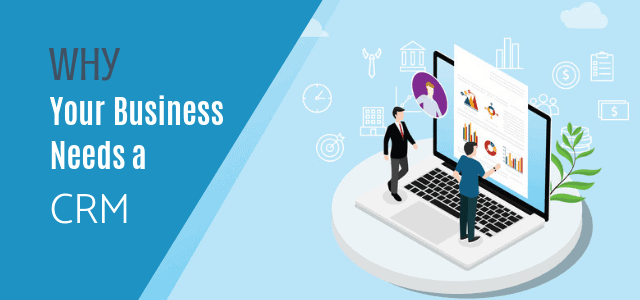 Why Your Business Needs a CRM
From revealing sales opportunities to tracking every single customer interaction, implementing a Customer Relationship Management platform (CRM) positions your business for real growth.
Why is a CRM Important?
At its core, CRM enables your business to deepen relationships with your customers, service users, colleagues, partners, and suppliers. You can see everything in one place. There's a simple, customizable dashboard that can show you your customer's previous history with you. You will also see the status of their orders, any outstanding customer service issues, and much more.
Think of CRM as a tool that creates a 360° view of your customers.
CRM also helps you find new customers, win their business, and keep them happy by organizing customer and prospect information in a way that helps you build stronger relationships with them and grow your business faster.
CRM is Not Just for Sales Teams
A CRM platform implementation helps the sales team to better understand their sales pipeline. Sales managers can access reliable information about the progress of individual team members. Sales reps can spend more time selling and less time inputting data. Less time, means they're more productivity!
But other departments in your company will benefit from a CRM, too.
For instance, marketing teams use CRM to make forecasting simpler and more accurate. Sales gets a clear vision of every opportunity or lead through a mapping of the whole customer journey from inquiry through to sale, with a better understanding of the sales pipeline. Marketing can then use that information to create email, social media, and advertising campaigns targeting your company's leads.
Another department that benefits from a CRM implementation is Customer Service. Those teams can effectively track conversations across multiple channels. Perhaps a customer might raise an issue in one channel – say, Facebook, LinkedIn or Twitter – then Customer Service teams can switch to email, phone or live chat to resolve the issue in private.
Remember, without a common platform for customer interactions, communications can be missed or lost in a sea of information. That leads to an unsatisfactory response to a valued customer.
Additionally – and you may never have thought of this – but your HR department can also benefit from a CRM platform. It enables the team to accelerate recruitment, track employee performance, speed the on-boarding process, analyze resourcing needs, identify skills gaps, and support the staff retention targets.
What Else Can a CRM Do?
A CRM platform can also connect to other business apps that help you to further develop customer relationships. A CRM solution can also integrate with your other business tools, such as an ERP, EHR/EMR, document signing, and accounting and billing. Now, information flows freely, giving you a true 360° view of your customer.
Lastly, today's new generation of CRM platforms goes one step further with built-in intelligence. This automates administrative tasks, like data entry and lead or service case routing, so your teams can free up time for more valuable activities.
These automatically generated insights will help you understand your customers better. They will also predict how customers will feel and act so that you can prepare the right outreach.
Ad Victoriam's team of consultants can show you how a Salesforce CRM platform implementation can change and grow with your company's processes. That helps with efficiencies and will have an enormous impact on your company's bottom line. Let's talk today! Just click here.
Subscribe in a reader