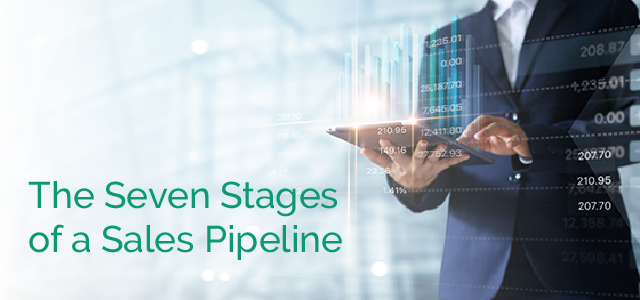 The Seven Stages of a Sales Pipeline
Estimated reading time: 4 minutes
Not to be confused with a sales funnel – which looks at the whole customer journey and the various stages a consumer will go through in their journey towards purchase – a sales pipeline looks at the different steps in the sales process, from gaining the lead to closing the sale. It is brand-focused, in that it looks internally at the stages that your sales and marketing teams need to move a prospect through in order to gain a customer and retain them.
And while you could do an internet search and come up with various numbers of stages – and numerous names for them – that people feel are in a sales pipeline, these seven are generally considered to be the "standard" stages for a business that follows a typical sales process.
1) Lead Generation: Sometimes called prospecting, lead gen is typically done through advertising to let your potential customers know that you exist, community initiatives/volunteering/giving back, or other promotional activities.
2) Lead Qualification: At this step, you are determining if a viable opportunity is worth adding to the pipeline and adding applicable information into your CRM. Also at this point, you have to consider if this marketing qualified lead (MQL) has the potential to become a sales accepted lead (SAL) or sales qualified lead (SQL).
3) Initiate Contact: Here's where the real work begins in the various pipeline stages, as this is where the sales rep attempts to contact the lead to understand their business and requirements. This stage will help you map your business services against the lead's needs.
4) Schedule a Meeting and/or Demo: So you have had your initial conversation with the lead. If the lead is convinced that your services could possibly be a solution for them, you may schedule a demo during this pipeline stage. You may also try to set up a meeting with the decision maker with a goal of negotiating the deal.
5) Negotiation: Many salespeople will tell you that the negotiation stage of the pipeline process is the most exciting to them. This is where top sellers separate themselves from others. And in a perfect world, your proposal would check every box, and your prospect would immediately sign on the dotted line. But in the real world, this doesn't happen often. The goal of your negotiation is to find common ground. Sometimes it's simple, and other times it seems like a struggle. Be prepared for everything that the prospect could throw at you, and rely on your experience to bring you across the finish line.
6) Closing the Deal: Here's the coveted finish line! You found and qualified the lead, provided a proposal during a meeting/demo, and successfully negotiated a deal that works for everyone. But before you get too excited, you still need to close the deal, and that only comes when you have a signed contract in your hand – and not a moment before.
7) Post-Purchase: Now that the contract is signed, it's time to seal a positive future relationship and you do that by providing exceptional service during onboarding and regularly monitoring the account's progress. At opportune times, you can cross-sell existing customers on new services and upsell them on premium solutions. When the contract is about to expire, you can explore renewal options with them. And among your happiest clients, don't forget to ask for referrals to other potential customer
"AdVic has become a true business partner for us. We are seeing improved sales rep morale due to system simplicity, speed of execution for quoting, and accuracy of data entered into the system. Every interaction with the team has been positive and their work is top notch." – Ryan Hesske, Sales Operation Manager, ConnectWise

---
Salesforce, the world's leading CRM platform, helps you streamline, manage, and track your sales process and pipeline – so your team can close the deal more times than they are today. And as a Salesforce Partner, the AdVic® Consulting Team has the breadth of experience to quickly implement a CRM system that will make your sales team's pipeline steps a seamless success. Let's get your business on the road to closing more deals today! Schedule a call with us below.
Related Resources: 
How to Improve Sales Forecasting in Salesforce with AI
Salesforce Tools for Retailers
Inside a Salesforce Implementation from Initiation to Go-Live
Follow in a Reader