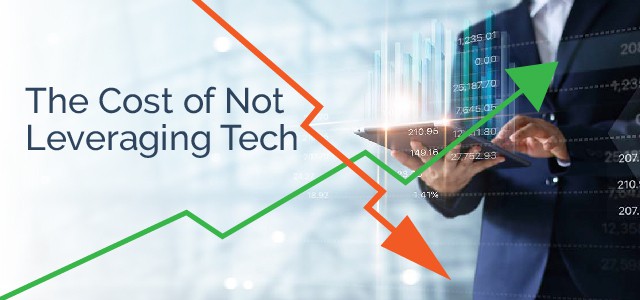 The Cost of Not Leveraging Tech
Estimated reading time: 3 minutes
It's never uncommon to hear that businesses need to cut costs to remain competitive. And when that is the case, it is also not uncommon that technology is the first line-item expense for cutting costs for many businesses. So, what's a business supposed to do? Well, if you want to keep any competitive edge you may have established in the marketplace, it's time to stop looking at technology as merely an operational expense.
Using Technology to Establish a Long-Term Competitive Advantage
When a business leverages technology, that digital transformation makes a fundamental change in the way that business conducts every aspect of its operations. In addition, the digital age has changed the way people interact with one another, including customers, who expect to have seamless experiences with the brands they buy from. Being responsive to customer expectations is a critical factor in meeting that challenge, so to improve customer experiences – to remain competitive – your business has to be accessible online, providing self-serve capabilities, collecting and responding to customer information, and much more.
Technologies To Remain Competitive
Earlier we talked about technology as being the first thing many businesses cut when they determine that they need to tighten their belts. However, the truth is, the price of technology is falling and its capabilities are increasing. Here's some questions to ask to yourself about ways your company can leverage technology to remain competitive:
– Are we using technology to integrate workflow automation in an effort to get back crucially-needed time to focus on our critical business operations and foster innovations?
– Have we ever considered a chatbot to take over our customer service tasks that include interacting with customers, answering routine questions, and routing telephone calls?
– How do we handle social media management so it becomes much less time consuming and more effective? What software can we use to eliminate many of the time-consuming and repetitive tasks associated with our social media presence, which we need to have in our competitive toolbox?
– Should we be looking at an online project management tool to track our projects and would also create a platform for communication among team members?
– Are we missing opportunities by not having a cloud-based accounting system for producing invoices and then sending them via email, and also keeping track of revenue and expenses?
That is just a partial list of the technologies you could leverage to transform many of your business' processes to save time, reduce costs, and improve competitive advantage. The results that are produced could truly be impressive. What are you waiting for?
So, there's the case for leveraging tech – not abandoning it – to remain competitive. Are you unsure where to start your digital transformation for responding to internal and customer expectations and developing a strong competitive advantage?
Relax! Ad Victoriam's innovative, trusted and experienced team of certified Salesforce® consultants will commit themselves to maximizing your platform's capabilities, giving you the peace-of-mind that your business is competitive today and into the future. We're ready to help starting today!
Related Resources:
Transform Technology Headaches into Successes
Innovative Technology that Drives Manufacturing Sales
Pharma Productivity Advances on Salesforce Maps Mobile
Follow in a Reader