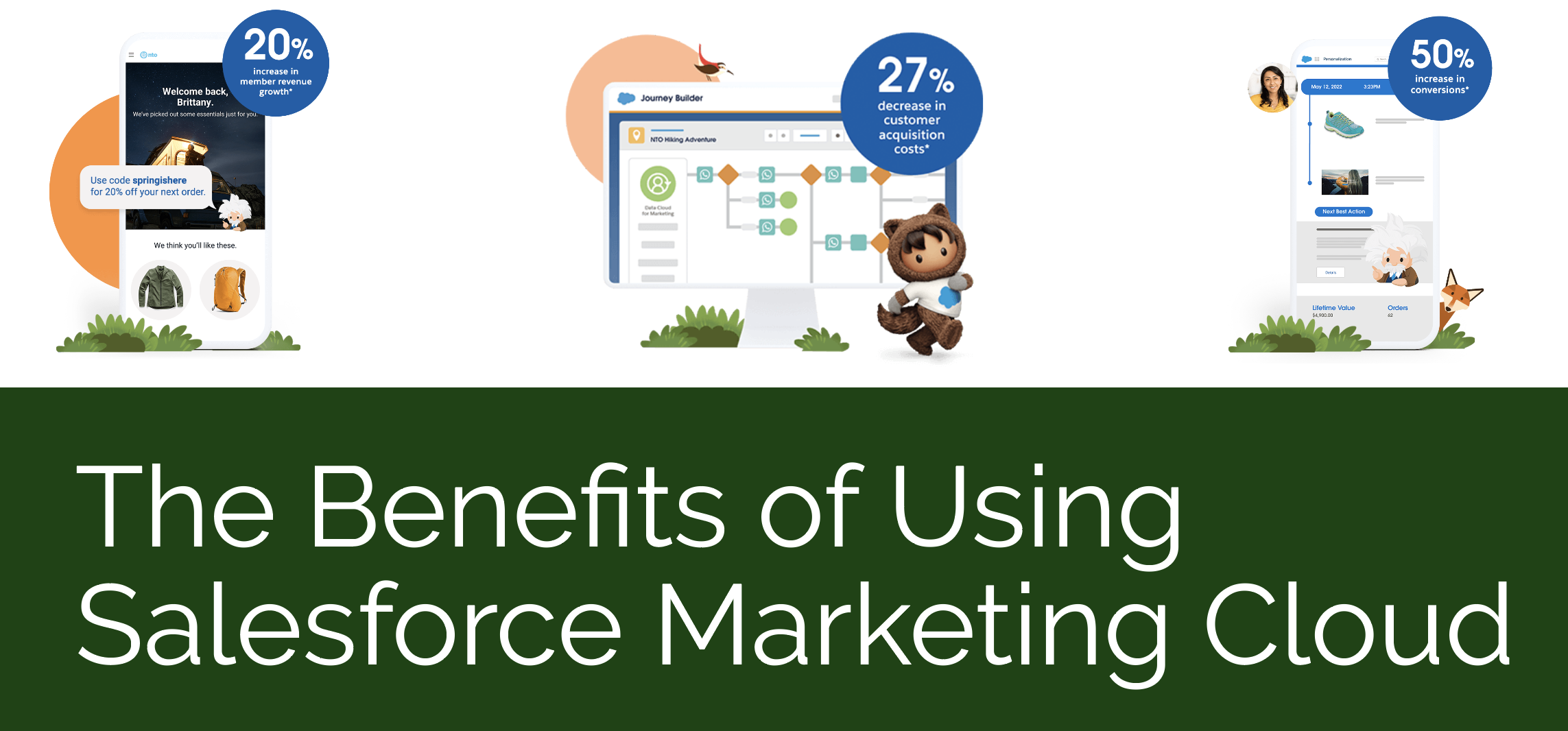 The Benefits of Using Salesforce Marketing Cloud
Estimated reading time: 4 minutes
What is Salesforce Marketing Cloud? It's the email you received from a retailer that presented products they already know you personally have interest in. Or a text message alerting you that the item you viewed, but didn't purchase is now on sale. Marketing Cloud can do this, and so much more.
In a nutshell, Marketing Cloud really has become an essential tool for businesses looking to build brand awareness and grow their customer base. So, in this AdVic® Salesforce Blog, we'll explore some of the most important things to know about Marketing Cloud, including its benefits and how it can help your business.
The Benefits
Personalized Messaging
One of the biggest advantages of using Salesforce Marketing Cloud is its ability to create personalized messages for each recipient. By collecting data on individual users' interests and behaviors, you can customize your message to resonate with each person on your list. Whether it's through email marketing or social media ads, customizing your messaging will lead to higher engagement rates and more conversions.
Email Marketing:

Email marketing is one of the most effective ways to reach customers today, but it's only effective if you're sending the right message to the right person at the right time. With Marketing Cloud, you can use data like past purchases and browsing history to create personalized emails that are tailored specifically to each user's needs.

Social Media Management:

Social media is another powerful tool for reaching customers where they spend their time online. However, managing multiple social media accounts can be tedious and time-consuming. With Marketing Cloud's social media management tools, you can schedule posts across all major platforms from one central location.
Integrated Analytics
Analytics are an essential part of any marketing campaign because they help track progress towards goals and identify areas for improvement. With Salesforce Marketing Cloud, analytics are built into every tool so you can easily track key metrics like open rates, click-through rates, and conversion rates.
Email Analytics:

With email analytics in Marketing Cloud, you can track opens and clicks in real-time as well as monitor overall campaign performance over time. This makes it easy to optimize your campaigns for better results.

Social Media Analytics:

By tracking engagement metrics like likes, comments, shares, and followers across all major social media platforms in one place with Marketing Cloud's social media analytics tools make getting insights easier than ever before.
Mobile Messaging
Mobile messaging has become an increasingly popular way for businesses to reach customers on-the-go through SMS or push notifications. With Salesforce Marketing Cloud's mobile messaging tools integrated with other marketing channels such as email & social media allows businesses seamless communication with their customers wherever they are.
SMS Messaging:

SMS messaging through Marketing Cloud lets businesses send targeted messages directly to their customer's phones based on behavior triggers or demographic information like location or interest groups
Push Notifications:

Push notifications work similarly by sending targeted messages straight into a user's mobile device home screen without being limited by traditional phone numbers unlike SMS messaging.
Summary
Salesforce Marketing Cloud provides a wide range of benefits that make it an essential tool for businesses looking to grow their customer base while creating personalized connections with them in real-time across multiple channels including email marketing campaigns along with social media management tools which include integrated analytics capabilities allowing tracking progress towards set goals effectively as well as seamless communication through mobile messaging channels such as SMS or push notifications when appropriate triggers arise, thus improving overall customer experience and satisfaction rate helping increase revenue generation opportunities while keeping costs low ensuring success in today's competitive digital landscape.
Salesforce's Marketing Cloud can benefit businesses of all shapes and sizes if correctly implemented into your organization, and AdVic's certified consultants will learn your business, and skillfully guide you through the entire implementation process. Let's get to work today!
Related Resources:
Using Data Relationships to Create Better Segmentation in Marketing Cloud
Marketing Cloud Intelligence Reports: A Deeper Dive
Marketing Cloud Interactive Email: Form Content Block
Subscribe to the AdVic Salesforce Blog on Feedly: