The 7 Benefits of a Managed Services Program
Estimated reading time: 4 minutes
Today, more than ever, technology is vital to every businesses success, but managing that technology can be a challenge for companies, no matter the industry.
Sometimes your business' technology only needs maintenance, and sometimes it needs a lot of attention that keeps it efficient, relevant and ensures you are connected to customers.
In addition, your internal staff may also be experiencing bandwidth or knowledge limitations, so considering a Managed Services solution – certified experts who work as an extension of your team – just makes sense because it can be cost effective, offer flexible commitments and give you the solutions you want.
Those solutions could include cloud and adoption strategies, issue resolution, process improvement, staffing issues, project work, and tech release management, making a Managed Services solution a win-win for everyone.
Keeping Business in Motion
While there are certainly many benefits of Managed Services Program (MSP) – as outlined above – here are seven benefits that should absolutely be on your radar when you are vetting a potential MSP provider.
Predictable Cost Control:

With an MSP, data and technology costs can be neatly packaged into a set amount paid monthly or annually.

Grow as Intended:

The price tag associated with an in-house data and technology team is big, and that's why teams are understaffed, overworked, and unable to get everything done. An MSP extends your team removing all productivity bottlenecks.

Focus on the Bigger Picture:

If your internal team is swamped with helping users fix basic issues or dealing with systems malfunctions, they don't have the time or focus to work on projects that push your business forward. An MSP frees up your team for pursuits that are more crucial to your business

Wide-Ranging Knowledge:

Even the most well-trained employees don't have the knowledge and experience of an MSP's large team. An MSP fills knowledge gaps by giving you access to a team of experts with the precise skills you need to conquer any new initiative.

Data Compliance:

A managed services provider handles the complexities of compliance and auditing, so you don't have to worry about violating data security regulations. This can save your in-house team thousands of hours in the long run.

Seamless Scalability:

An MSP can make it easy for businesses to meet increased demand for products and services. The ability to scale resources means you can easily meet your demands. With an MSP on-board, you no longer have to worry about limited space, costly infrastructure, or slow rollouts. You can be sure to have the right systems and products to keep up the growing or shrinking requirements of your business.

Automatic Release Updates:

With cloud technology constantly evolving, it is easy for your technology infrastructure to become obsolete if not regularly updated and upgraded. However, keeping your technology infrastructure constantly up to date can be a challenge given the rapid rate of innovation in cloud technology. Using a managed service provider frees you from constantly trying to keep your infrastructure updated. Your managed service provider should have the resources for keeping up with all of the advances in the cloud, as well as upgrades your technology infrastructure needs.
Thriving businesses are agile, scalable, and continually innovate to serve their customers. Based on industry best practices and the latest Salesforce® and MuleSoft® advancements, AdVic's THRIVE Managed Services for Salesforce and MuleSoft Program keeps your cloud-based software in alignment with your processes and goals – often at a lower cost than one employee – so your business can thrive.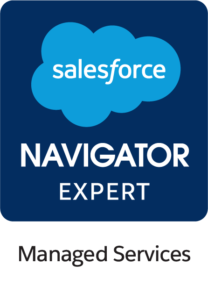 Let's talk about ways your business can start thriving! Pick a date that works for you on the calendar below, and a member of our THRIVE Managed Services for Salesforce and MuleSoft Program will immediately be in touch.
Related Resources:
Listen to What Salesforce Managed Services Can Do For You
Building and Maintaining Relationships Through Managed Services
AdVic Provides a Managed Services Solution
Salesforce Managed Services Advantages That Control Costs
AdVic's Thrive Managed Services for Salesforce Program
Subscribe to the AdVic Salesforce Blog on Feedly: