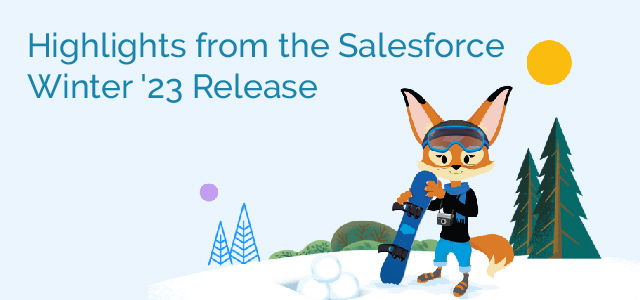 Highlights from the Salesforce Winter '23 Release
Estimated reading time: 5 minutes
Salesforce® has once again packed their platform with exciting new features inside its forthcoming Winter '23 Release, which – depending on your instance of Salesforce – can begin to be experienced as early as the first release weekend, September 9, 2022.
And as they always do, AdVic's consultants have poured through every one of the new features in this release and have highlighted the ones they are most excited about. So, let's take a look at six of this release's platform highlights, including ones that focus on Commerce, Workflow Rule Creation, and Dynamic Forms.
AdVic Note: If you use Einstein Analytics, all standard Salesforce reports and dashboards are now housed together with the Einstein dashboards, lenses, and stories in one convenient location. Previously you had to access Analytics Studio for Einstein dashboards, lenses and stories. And then access the standard reports and dashboards in a different location. This provides much more clarity on your total analytics in the org.Salesforce Overview: Use Analytics Home for contextual search capabilities, such as browse and find, to discover insights with speed. Apply filters to manage all CRM Analytics assets and Lightning reports and dashboards in one user interface.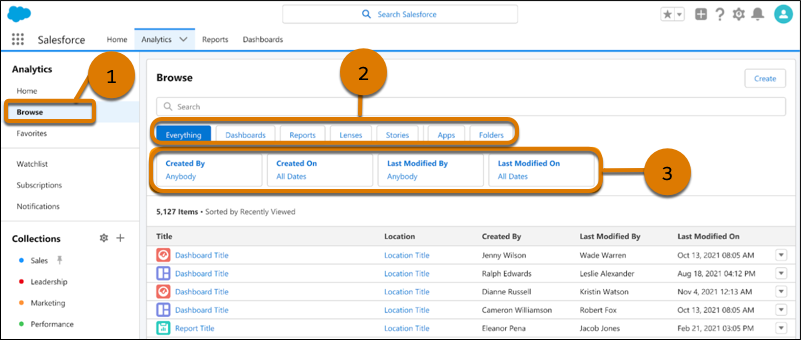 AdVic Note: SEO (Search Engine Optimization) has been very vague in B2B and B2B2C sites. They gave users the ability to stamp tags in the Head of the site page but you had to have a really strong understanding of SEO already in order to do so. With SEO specific documentation for Experience Sites, it will be much easier for the standard user to utilize this functionality without needing to hire an entire consulting team to do so.
Salesforce Overview: Drive more traffic to your B2B or B2C store with search engine optimization (SEO). New SEO documentation provides guidance on how to add HTML meta tags to pages, use canonical and shopper-friendly URLs, manage the store sitemap, and provide store snapshots to web crawlers.
AdVic Note: Commerce sites are finally getting buy one get one free functionality. Previously you could discount an order if the user bought a certain amount of a product but there was no true BOGO functionality. This is huge in standard commerce sites so to give the ability in Experience is a huge benefit for a lot of customers.
Salesforce Overview: Entice your customers with the lure of a good buy-one-get-one (BOGO) sale. For example, create a promotion that offers customers who buy one bag of coffee beans 50% off a second bag. Use discount and qualifier rules to create more-advanced BOGO deals.
AdVic Note: Dynamic forms on pages were released for custom objects in the last cycle and they were a huge hit. Customers have been clamoring for a way to hide or display extra fields on object record pages to make it easier for their internal users to find the information they are looking for. We are finally getting the same functionality for standard Account, Contact, and Opportunity pages.
Salesforce Overview: You can make your account, including person account, contact, and opportunity record pages more robust by configuring them with Dynamic Forms.
AdVic Note: This is a huge change in how Salesforce plans to use automation in the future. We have been told for years now that Workflow Rules and Process Builders would be sunsetted in favor of flow. This is the first step in that process. I personally love this move as all automations will be stored in the same location (flow) in the future, but this is going to severely affect older orgs as well as Admins who are not versed in Flow.
Salesforce Overview: The next step toward retiring Workflow Rules is to disable the creation of workflow rules. You can still activate, deactivate, and edit any existing workflow rules. And you can still create automations in Flow. To test and create workflow rules for use in managed packages, developer orgs still allow you to create workflow rules.
AdVic Note: Events and Tasks have been critical for sales teams to be able to track their day to day activities. It has been a pain in order to locate all of the different tasks that a sales user might have to do that day or in the upcoming week. Salesforce had a few basic "Daily Task" components but for the most part the user had to be on the account or opportunity record in order to see what they had to do. This new "To Do List" stored in the console will give sales users a one stop shop to identify their upcoming tasks.
Salesforce Overview: Now your users can see all the tasks assigned to them in one component that's available throughout Salesforce. With the To Do List docked in the Utility Bar, Sales Engagement users can see, sort, and organize tasks from records or cadences in a single actionable view. Users can apply labels to tasks in the To Do List to customize how they organize and prioritize them.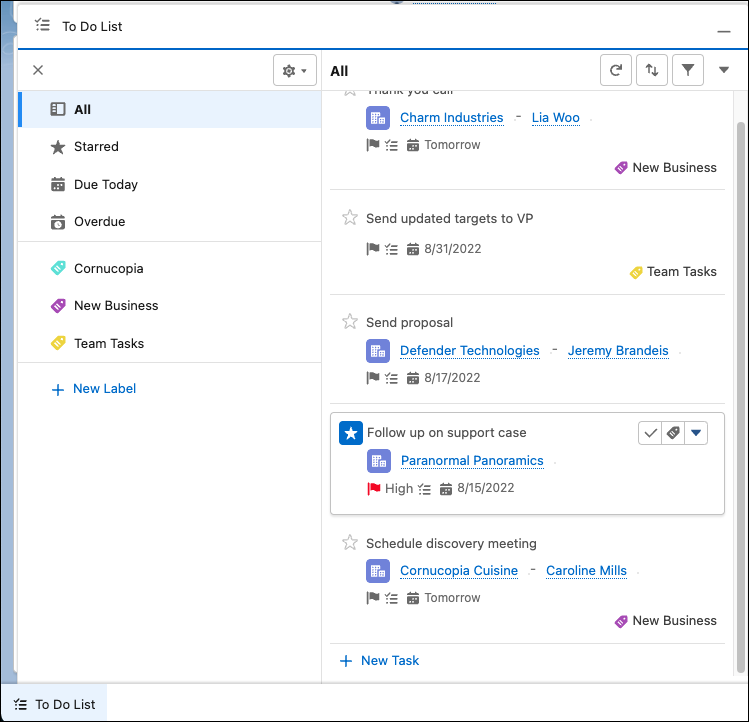 ---
If you have any questions about the Salesforce Winter '23 Release – or anything Salesforce-related – AdVic's Consulting Team is standing by to help! Reach us now, here.
Related Articles & Resources
Highlights from the Salesforce Summer '22 Release
Subscribe to the AdVic Salesforce Blog on Feedly: