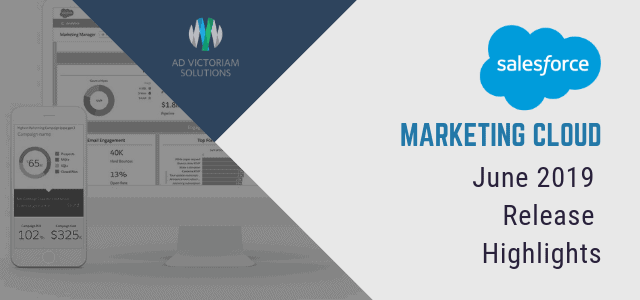 Salesforce Marketing Cloud Highlights – June 2019
Salesforce's Marketing Cloud can benefit businesses of all shapes and sizes if correctly implemented into your organization. This innovative marketing automation platform can help your business expand its customer base by providing a toolbox of creative features to assist in, including:
Attracting Prospective Customer
Nurturing
Building Custom Email Campaigns
Social Media Marketing
Predictive Analytics
Notable June 2019 Salesforce Marketing Cloud Releases
As amazing as Marketing Cloud already is, Salesforce has scheduled the release of a dozen new highlights for June 2019. Among the most exciting highlights are:
Google Analytics 360 Integration
The integration with Google Analytic 360 was an exciting addition to Marketing Cloud for all of us Marketing geeks. And, more functionality keeps getting added. For example, with this new release, you can now track key Google Analytics goals in the Journey Analytics dashboard with up to five configurable goal tiles!

Marketing Cloud Einstein
Einstein now features automatic Content Builder tagging, allowing you to locate images using an object search. In addition, Einstein's Send Time Optimization will help you increase email open rates.
Journey Builder
Creating and sharing journey templates across business units just got a whole lot easier. Sharing helps you replicate journeys for common use cases for all to use and modify. And, admins can now grant separate permissions so users can have access to the Salesforce events and/or activities based on the org's needs.
Social Studio
Introducing Persona Groups in Social Studio for Twitter. Via social listening dashboards, now you can not only pull important persona information, but you can analyze it as well. And for you Facebook users, check out the new filtering for @mentions when you want to engage your customers.
Mobile Studio
It's a multifaceted release for Mobile Studio, as now you will not only be able to send in-app and multi-content messages, you can now use audit logging to track message changes, and in Journey Builder, view mobile activity configuration details.
The Full Monte
As previously mentioned, Salesforce has a total of a dozen exciting new Marketing Cloud Release Notes for June 2019. Get the complete list below.
Marketing Cloud Trailhead
Check out the Marketing Cloud Trailhead for a hands-on learning experience. Trailhead is the go-to spot for all the things you want to learn about Salesforce. There is something for everyone – whether you're a Salesforce admin or a developer, you can discover great features, new and old.
Here at Ad Victoriam Solutions, our reputation as a top-rated Platinum Certified Salesforce Consulting Partner has spread well-beyond our headquarters in Atlanta, GA. The secret to our success? For starters, our extensive experience with the Marketing Cloud. If you are interested in learning more about any of these new Release Notes for June 2019 and how they can benefit your company, contact us now.
Subscribe in a reader