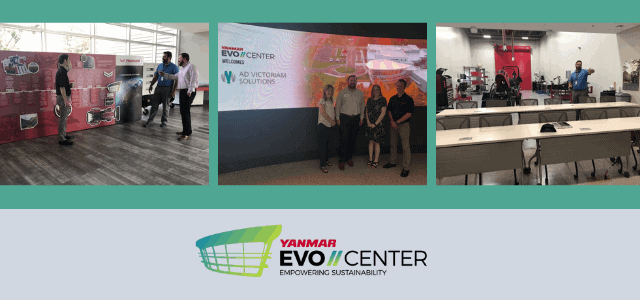 YANMAR Empowers Sustainable Future
In November 2017, Ad Victoriam partner, YANMAR America, a leader in the design and manufacturing of diesel engines and diesel-powered equipment, opened the doors of their 50,000+ square foot YANMAR EVO//Center. The facility was designed specifically to help empower the YANMAR global mission of creating a sustainable future.
The EVO//Center features a product showroom/museum and a 300-person auditorium. Inside there's also a state-of-the-art training academy, training labs, private meeting/event space, indoor and outdoor common areas, and a product demonstration field. These spaces are designed to provide state-of-the-art training. They also support the local community with an active calendar of events focused on empowering sustainability.
With a Mission Statement that reads: "The EVO//Center strives to evolve the mindset of our customers, dealers, employees, and community by serving as a place of collaboration and education dedicated to sharing solutions for empowering sustainability," the facility specifically raises customer satisfaction through a training program that:
Provides industry-leading training for our dealers, employees, and customers
Employs a highly skilled training staff
Continually develops curricula to meet the needs of our dealer network
Offers various types of training beyond technical training (sales, finance, parts, etc.)
In addition, the EVO//Center interacts with their community by:
Hosting community activities focusing on sustainability
Providing facilities and tools for businesses and the community to engage and collaborate
Offering training to individuals outside the YANMAR Dealer network
Educating children on sustainability and food production via school field trips
YANMAR Fosters Sustainable Future
It's one thing to say you "foster sustainability," but through their EVO//Center, YANMAR has put it into practice by:
Signed "Partners in Education" agreements with several local schools. They host students from these schools and teach them about the importance of sustainability through engaging activities and games.
Hosting "sustainability-themed" community events such as garden symposiums and farmers markets. They are currently working with a local farm to install and maintain an apiary on the campus. Bees are a critical part of sustainability; keeping bees on campus will allow them to teach kids and adults about the important role they play in our ecosystem.
YANMAR//Academy not only teaches their dealers how to better serve their customers, but it also hosts a variety of business management courses designed to help our dealers be successful and self-sustaining.
"Our goal, therefore," says YANMAR EVO//Center Marketing and Events Manager Todd Grondzki, "is to have the best-trained dealer network in the various industries we serve. We also want to generate awareness for YANMAR and our mission of "a sustainable future" within the local community. We hope our efforts will empower the local community to be more sustainable in their homes, businesses, and everyday lives."
As a Certified B Corporation, Ad Victoriam Solutions donates our resources to create a better world for our employees, community, clients, and the environment. That's the reason we are so excited to partner with YANMAR America. Beyond our business relationship as a Salesforce implementation consultant, we're working on future sustainability projects that meet both of our missions.
Subscribe in a reader