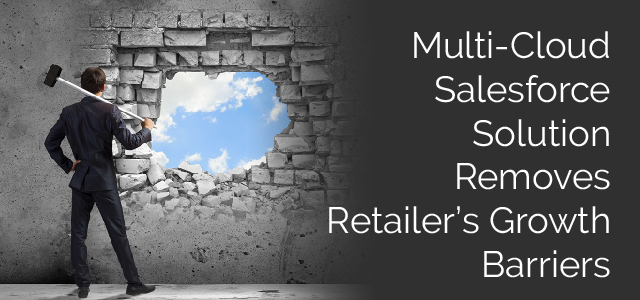 Multi-Cloud Salesforce Solution Retailer's Removes Growth Barriers
Estimated reading time: 3 minutes
A pet supply retailer with numerous locations across the U.S. came to AdVic® with a major predicament that had actually been snowballing in recent years. Their eCommerce platform had become extremely challenging not only to maintain, but to enhance. As a result, their challenges were creating barriers hindering their growth in what has become an extremely competitive marketplace.
What this client really needed was to be able to pivot at a moment's notice to increase their ability to service customers quickly and be able to control their platform locally and, at the same time, digitally rebrand their business.
The Multi-Cloud Solution
The Salesforce solution AdVic implemented for our client took on a very specific four-pronged attack that also included a MuleSoft® integration.
Implemented a complete digital transformation, empowering internal teams with local control over their processes, brand, offerings, and more.

Formalized and implemented a new UX/UI design for a rebranding campaign.

Rebuilt processes, automation, and system integrations, enabling Pet Supermarket to create their own content and manage their online presence.

Established change management procedures to streamline and facilitate future platform changes.

Hourly data integration updates (previously once in 24 hours) provided accurate inventory availability, while custom logic alerted the customer and blocked order acceptance of unavailable products.
Salesforce Order Management™ (SOM):
Implementation and integration of

SOM with Commerce Cloud

enabled the client's team to build Split-Order Processing to manage fulfillment for two separate warehouses.

SOM dynamically reviewed each warehouse's inventory based on SKU. If an order included SKU's in each warehouse, the order would split aligning with the appropriate warehouse, change order stage to "allocated" to trigger MuleSoft to process and send the order downstream through the ERP to the pick/pack system in preparation for shipping.

Sales data visibility in SOM aggregated from three systems.
Integration of SOM with Service Cloud placed the processing of returns, discounts and cancellations inside of Service Cloud at the agent's finger tips.

Case Management dashboard consolidated data provides extensive visibility in one system versus two, facilitating quality customer service and agent management.
Implementation empowered the client's local marketing team to drive website visits through the creation and executing of promotions, campaigns, and targeting and nurturing, which more than doubled eCommerce conversion rates.

Initiation of online order email confirmations, along with FedEx tracking numbers, decreased the "Where's my order" inquiries by 20% within one month, and that percentage continues to trend down.
Outcome
Full digital transformation of this client's business revolutionized the way they do business and positions them for short- and long-term success. Implementation of the multi-cloud Salesforce system, integrated with MuleSoft, has provided them with updated consolidated data insights, elevated customer experiences, more than doubled eCommerce conversion rates, reduced service calls, and built a foundation for future functionality and growth.
---
Are you considering a Salesforce and MuleSoft integration? You will want to seriously consider a consultant who is not just interested in building your next project but wants to build your business for future success. The AdVic team is ready to start your project today. Let's start that conversation today!
Related Resources:
More Customer Stories from AdVic
Subscribe to the AdVic Salesforce Blog on Feedly: