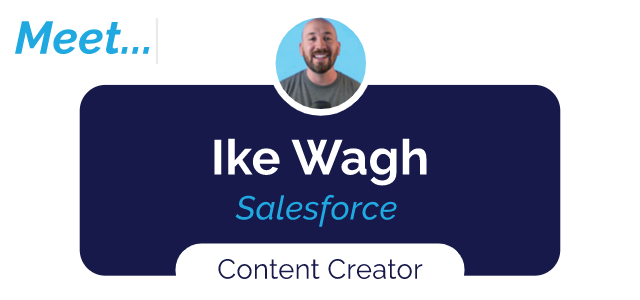 Meet Salesforce Content Creator Ike Wagh
Estimated reading time: 4 minutes
Ike Wagh is a unique independent Salesforce Content Creator who has been using his platform to share his passion for Salesforce® with the world across social media. Ike has over 13,000 followers on LinkedIn and over 3,000 subscribers to his YouTube channel.
Ike was a recent guest on the AdVic "Salesforce Simplified" podcast and talked about his journey to becoming an independent Salesforce Content Creator, how he connects with others in the Salesforce Ohana, and how those inside Salesforce are reacting to his content. Here are some highlights from that conversation…
How Ike Started Creating Salesforce Content
In the Salesforce ecosystem since 2015 – with Salesforce Admin and CPQ experience under his belt – Ike told AdVic that in all of the roles he had he always felt something was missing.
"There was a creative itch that just couldn't be scratched. Even if I could architect the most amazing thing, or at least in my opinion, if I was proud of it, there's still something missing. So one day I was thinking, "You know what? Let me just…" I was actually, this was when I was a CPQ consultant, I thought, "I'm just going to start a YouTube channel."
"And I think maybe there's an audience that wants to see some reviews of apps because I'm always into new tools and trying to find new fun ways to solve problems, and I'm just going to make five-minute reviews of apps. And that was how everything started. So it really started with just putting myself out there making YouTube video app reviews."
Salesforce Trends & Best Practices
We were curious how Ike stays up on Salesforce trends and best practices, oftentimes the subject of the content he creates and shares on social media.
"It's really all about LinkedIn. The Salesforce Ohana is strangely huge LinkedIn fans, basically. So if I'm looking for trends, it comes down to what's on my LinkedIn feed and also shout out to the Salesforce Ohana team. They're great. So basically between those two resources, I can keep up with what's going on and all the news."
The Challenges of Creating Content
Content creation in any form presents its challenges. AdVic asked Ike how he faces his:
"There is an issue that I think a lot of content creators can empathize with, and that you get yourself deep into the metrics and you start to associate the value of your metrics directly with the value of your work and it gets kind of dangerous because then you think, "Wow, I spent so much time making this thing and if it doesn't do," I'm doing air quotes, "if it doesn't do well, then maybe this wasn't valuable."
"And I think it's a dangerous path because it can really deflate what you're doing and how you feel. So it's something I struggle with but I think a lot of the way that helps me is to try my best to always just work on the things that I truly have fun doing because in that way, even if it doesn't do great, I can just remember that this was a fun project. Whereas your other option is work on something that you are not enjoying and if it doesn't do well, it's like it's a double whammy. So just basically always choose and work on the projects that truly inspire or [you] have fun with."
What They Don't Tell You
So, now that Ike has been creating his unique brand of Salesforce content for a while, we wondered if there was anything that he wished he had known when he first started?
"Yeah, no one cares. No one cares at all. So care less, that is my tip. And there's actually, one, it's psychological and it has to do with the algorithms, many of the algorithms in which we share content on. If it's not doing well, you don't need to worry that… I think it's almost like you might think, 'Oh, I just came into a big room and everyone is looking at me put myself out there, and it flops and how embarrassing.' But actually, your reach when you first post something is very small, and only if it gets engagement does a wider audience see it.
"So, remember, if something doesn't do well, there's also a good chance that not a lot of people saw it in the first place. So take a deep breath. It's okay and people care way less than you ever think. So that is something that I struggled with, but I wish I knew from the beginning."
There is much more to our conversation with independent Salesforce Content Creator Ike Wagh, including how people inside Salesforce are interacting with his content. Listen to the full Ad Victoriam "Salesforce Simplified" podcast here, or anywhere you listen to podcasts. 
Related Resources:
More "Salesforce Simplified" Podcasts 
Subscribe to the AdVic Salesforce Blog on Feedly: