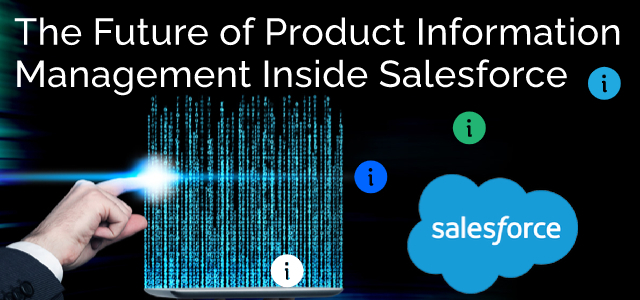 The Future of Product Information Management Inside Salesforce
Estimated reading time: 6 minutes
For those who don't know, Product Information Management (PIM) refers to the process of handling all the data, content, and other material that you need to market and sell products. PIM also ensures that quality data is created for internal use and multichannel distribution.
PIM was the topic on a recent AdVic® "Salesforce Simplified" podcast. In that episode we talked more about what PIM is, how it can help companies, and how it can be implemented into Salesforce systems. And to talk about all of that, we invited Mike Milburn, who has a deep background within the Salesforce® ecosystem (he is actually one of the founders of Service Cloud™), and is now the co-founder and Co-CEO of Pimly, which is a new and innovative solution that brings all of a company's product information into Salesforce to easily manage and utilize product data and digital assets across their Salesforce clouds. What follows are some highlights from our conversation with Mike.
The Importance of PIM for Businesses
We started our conversation with Mike by asking him to define PIM and its importance to businesses in today's ultra-competitive landscape.
"The image that I'd like to conjure up," Mike began, "is actually if you pull out your phone or your computer and you pull up Amazon or Target or Walmart and you look at what you last ordered, and I would like to think or believe and I'm probably pretty sure that most of your listeners have probably ordered something in the last 24 hours or in the last week, but if you pull up that order you're looking at a modern embodiment of product information. You see unstructured content or pictures and videos and graphics that help inform you of the product, good or service you're looking at, you can zoom in and you can get really up close and personal with the content. Then you also see structured data, and it could be as simple as the length or width or height of the item that you purchased, it could be the kind of material, it could be the ingredients in that product. But essentially, eCommerce is driven by product information.
"So, I think almost everybody interacts with product information in some way, shape or form, especially in this 2023 kind of post COVID eCommerce centric way. So that's what product information is, it's the set of attributes and the set of videos and pictures. So it's the structured and unstructured data that makes up the DNA of any product, good or service."
The Challenges of Implementing a PIM System
Mike offered this scenario about implementing PIM from the Pimly perspective.
"When you think about your company's product catalog, or maybe you went on Amazon and you purchased some shoes and you think about all of the different pictures and style for shoes, and you think about all that information, the first thing you've got to do is organize that. And so we've made it fast and easier and simple to organize that information in the same UI and UX that 17 million trailblazers are familiar, with the Salesforce Classic or the Salesforce Lightning interface. So, I think that's a neat part of it.
"The second piece of it is with our partner first model, we have an incredible delivery arm that has built and designed thousands or millions of Salesforce systems. So we're seeing implementation times that are delivered in days and weeks instead of months because they simply know the Salesforce platform. So, it's still a process, we're making it easier."
Integrating Pimly Into Salesforce
We wondered about the ease of integrating Pimly into Salesforce and Mike set the record straight on the word "integrating."
While it is easy, Mike added, "It's kind of funny because it's not even integrated because it's built on core, so we don't have to integrate. And so one of my favorite Salesforce alumni is a guy named Rob Pickeral and he invented this phrase called configuration, and it was really a hybrid of configuration and customization. And this word customization is pretty terrifying because it sounds hard and complex, but configuration is easy. It's like a paint by numbers book, and any trailblazer can configure in Salesforce. And the neat part about Pimly is that we're natively built on Salesforce, and that means with clicks not code. You can drag and drop and you can configure your product information natively on Salesforce. We make it fast and easy and simple. So it's not even integrated, that's too complex. It's built natively on Salesforce."
Measuring ROI
We thought it important to ask Mike about measuring ROI and what Pimly users should we be watching for.
"We're really trailblazing a new path here and let's start off with Salesforce," Mike remarked. "And so every customer of Salesforce is looking for value. We're adding value to the Salesforce platform for every single user. And this is a really important point, PIMs traditionally were for 5 people or 10 people or 15 people, maybe a product manager or an eCommerce team. We believe that modern PIMs are for every Salesforce user. So, I think of things like the value of Salesforce overall and the usage of Salesforce overall is going to go up with Pimly. That's a pretty cool measurement I think of sales efficiency and sales. Productivity is going to go up because you're using similar, easy, fast, simple tools that are powered by Salesforce. I think of service, service productivity, service enablement, CSAT, all the critical customer service metrics. I think those are going to go up and once they're powered by Pimly.
"And then finally, I think that there's an agility quotient. CIOs are looking to do more today than ever before with fewer technologies and more trusted technologies. And Salesforce has certainly earned the right over the last 25 years to be one of the most trusted technologies on the planet. And so you're putting your critical information in one of the most critical business ready systems, and I think therein is an efficiency of trust and scale."
Mike Milburn offered many more insights into Product Information Management on the podcast, which you can hear in its entirety here, or wherever you listen to podcasts.
Webinar: Unlocking the Potential of Commerce
Having access to accurate product information is a challenge and can have serious implications, especially in the MedTech sector. This issue is difficult to solve without a Product Information Management (PIM) system and strategy. This webinar provides an overview of PIM, how it helps the MedTech sector, and will demonstrate how Pimly, the only Salesforce-native PIM solution on the market, bridges the gap between product information and CRM.
Related Resources:
More "Salesforce Simplified" Podcasts from AdVic
Subscribe to the AdVic Salesforce Blog on Feedly: