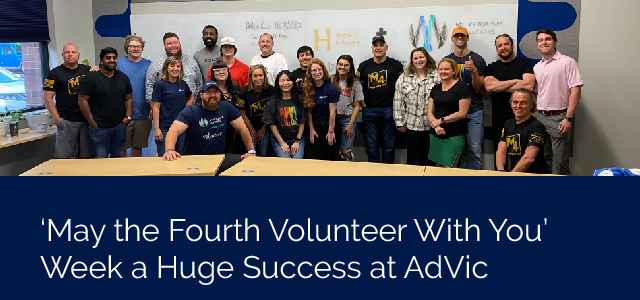 'May the Fourth Volunteer With You' Week a Huge Success at AdVic
Estimated reading time: 4 minutes
After an inaugural volunteer week in 2019, and a two-year delay because of pandemic-related postponements, May the Fourth Volunteer With You week was back this year at Ad Victoriam Solutions (AdVic®). With three events at our headquarters just outside of Atlanta, and our remote employees participating in events across the country, our team came together to give back.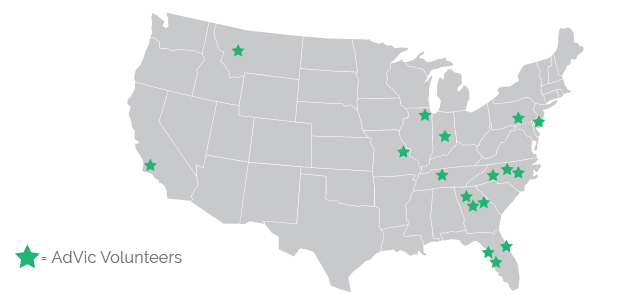 The Stats of Our Labor
Of AdVic's 141 team members, 47 of our team members spent at least some portion of their week serving their local community. From the Mobbly Bayou in Florida to the beaches of Southern California, our team worked with 22 different organizations over the weeklong volunteer drive. Other highlights of the week included:
205 total hours of service

Six bags of trash picked up along the road connecting our two offices in the Atlanta area

96 meal kits prepared, which included 768 meals for

HOPE Atlanta

, an organization that feeds children in need.
Nonprofits Benefit From AdVic's Project Victory Team
The week also included another cohort of nonprofits working with our Project Victory team to unleash the power of Salesforce.org. With three teams of two AdVic consultants, these organizations are moving out of Google Sheets and manual data entry and updates and into a world of real-time reporting and actionable insights, empowering them to greater efficiency and a better ability to serve. This year's recipients were:
Journeymen Triangle

, a North Carolina nonprofit that pairs volunteer mentors with adolescent males to support their path to becoming men of integrity.

Water4Mercy

, a Florida-based nonprofit, works with villages in Tanzania to supply the technology and infrastructure needed to provide clean drinking water.

B Local Georgia

organizes a community of

B Corp

's in Georgia. As B Corp momentum continues to grow, this project will help them expand their academic offerings to schools throughout the state.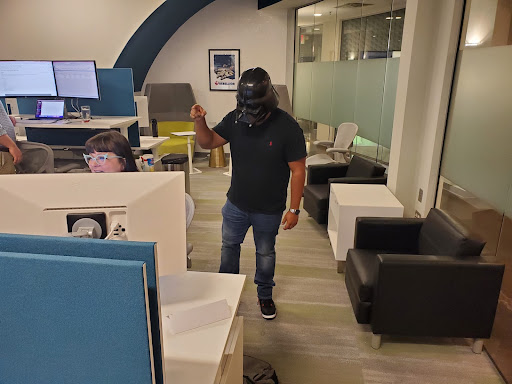 More Work to Do
As a B Corp, we take our commitment to serving our stakeholders very seriously, with a goal to donate 2% of revenue in the form of volunteer time (each employee gets 40 hours of paid time off to volunteer) and pro bono services. This year's goal is 3,200 hours and in one week, we achieved 6.25% of that target.
With a little more than seven full months to go in the year, there is still a lot of work to do, but we're encouraged by our team's efforts so far. Year-to-date, our team has served 936.5 hours and 50% of the team has used at least a portion of their Volunteer Time Off. We're proud of our team for stepping up and excited that this week was once again possible after all that the previous two years threw at everyone.
While we'll continue to serve throughout the year, our impact team will now turn its focus to Giving November, where we'll be volunteering and fundraising for our employees favorite charities, and providing additional pro bono consulting services to nonprofits.
In closing, "May the Fourth Be With You" year-round and may it inspire you to be the change you want to see in the world.
---
Volunteerism is just a small part of how AdVic – a Certified B Corporation – gives back to our communities and the world at-large. If you have any questions, feel free to contact us.
Related Resources:
Read More Social Impact Blogs From AdVic
Follow in a Reader