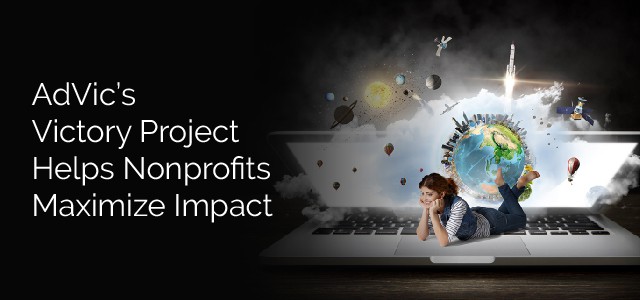 AdVic's Victory Project Helps Nonprofits Maximize Impact
Estimated reading time: 3 minutes
Nonprofit organizations are usually high on passion and purpose, but often lack the resources needed to take their mission to the next level. One of the biggest challenges they face can be access to technology, prohibited by the cost of licenses and proper implementation. Most of these organizations start off in a free version of Excel or Google, relying on manual data loading, emails, and more, leaving their volunteer staff stretched thin and limiting their ability to maximize their impact.
For four nonprofit organizations in the southeast, this story was all too similar. And even though all four were in different phases of growth, they all needed to take the next step in their organization's progress. And that's where Salesforce® and Ad Victoriam Solutions (AdVic) stepped up to help.
Salesforce's "Power of Us" Nonprofits Program
Through Salesforce's Power of Us program, each of these wonderful nonprofits was able to acquire 10 free licenses to the Nonprofit Success Pack. And through AdVic's Victory Project program, each nonprofit had their data loaded, reports built and generated, and email templates created, which allowed them to send different emails to different groups with the click of a button. Additionally, each nonprofit will now have new contacts automatically imported into their Salesforce org, eliminating another manual component of the process and saving valuable time.
The implementations were run through AdVic's Victory Project, a first of its kind event that paired AdVic consultants with students from the AdVic Enable career development program in partnership with Goodwill of North Georgia. And the nonprofits were thrilled with the results they got.
The Victory Project in Action
HYPE, whose mission is to empower and prepare girls of color for careers in technology, was one of the nonprofits involved. And their Executive Director, Kristina Newton, told us how important getting Salesforce was to them.
"We'd been sitting on our free nonprofit licenses offered by Salesforce for over a year with little progress in actually using it to support our business needs and activities. Having the support of Ad Victoriam's Salesforce professionals during The Victory Project event helped us to upgrade our processes for tracking data, engaging with donors and volunteers, and managing leads and contacts to support our outreach efforts. It was a wonderful experience and we're excited to start finally using the power of Salesforce on our team!"
The other nonprofit beneficiaries of the Victory Project, all B Corp-related organizations, were Florida For Good, B Tennessee, and B Local Georgia.
As a certified B Corp, AdVic was excited to make an impact with these organizations, whose mission is to educate and grow the number of companies using business as a force for good.
Nonprofits are short on resources and big on ideas. AdVic wants to eliminate this barrier so nonprofits can expand their reach and increase their impact. That's where The Victory Project comes in. As part of this program, our experienced nonprofit Salesforce consultants help implement or enhance Salesforce, at zero cost to a nonprofit organization. Does your nonprofit organization need help with its technology solutions? Let's talk!
More AdVic Social Impact Stories
Follow in a Reader