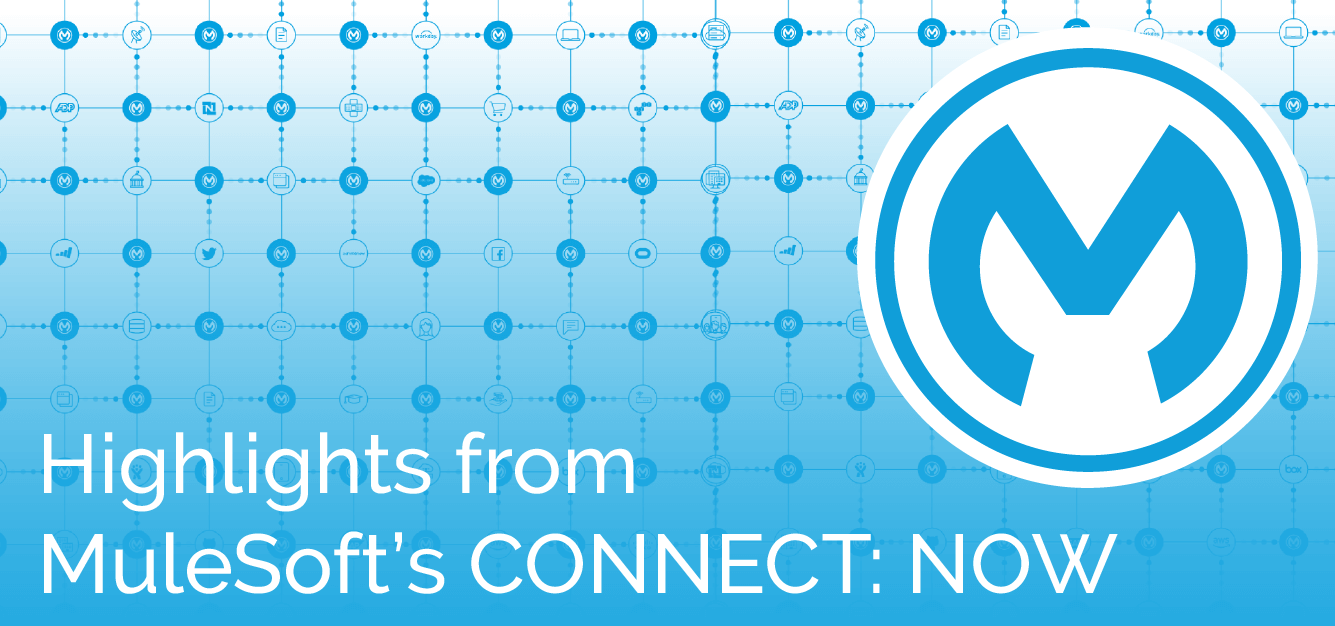 Highlights from MuleSoft's CONNECT: NOW
MuleSoft's recent CONNECT: NOW global integration conference – held on October 13, 2020 – helped attendees to discover how to unlock data and unleash innovation with API-led connectivity — charting a clear path to achieving digital transformation with speed and scale.
Members of the Ad Victoriam MuleSoft® Consulting Team attended the virtual conference and chose a few session highlights to share.
Session: Streamline and Scale Lending with API-led Integration
This breakout session provided a good understanding of how lending companies have addressed the need to deliver products and services with the use of a digital platform.
API-led connectivity plays a big part in lending-type MuleSoft applications, as this helps to define or refactor current business processes to help improve the overall end to end customer experience.
During the session, Truist Bank CIO, Ken Meyer, talked about how adopting MuleSoft is not just a technology effort, it requires the business to define all the requirements for the APIs that can then be implemented using MuleSoft.
With the use of APIs and MuleSoft, companies within the lending industry can unlock data from other systems, automate manual business processes, and drive innovation with more speed and agility.
Session: Revolutionize the Patient Journey in Life Sciences Through APIs
This session focused on how in today's healthcare world patients are seeking virtual engagement.
Due to COVID19 healthcare companies are having to rapidly change and adapt to the growing virtual needs of patients.
The MuleSoft Anypoint platform is helping healthcare providers to quickly combine disparate systems with builder block APIs to drive interoperability. Traditionally IT teams would not be efficient enough to quickly build out new interrogations.
To support the healthcare industry's needs, such as those that COVID19 has presented, the API building block approach with MuleSoft allows IT teams to build upon past phases to narrow the development timeline.
Session: Manage Changing Retail Operations with Real-Time Data
The main subject of the presentation was how retail has changed significantly in the last few months due to COVID19.
Kreena Mehta, Lead Software Engineer of Asics Digital showed how they used SAP and MuleSoft to streamline their operations and quickly adjust their supply chain to a more delivery-based model as opposed to the traditional brick and mortar.
MuleSoft made this easy with its API-Led approach because the existing processes did not have to be changed from the top down, just the targeted areas dealing with shipping/receiving.
The digital shopping experience is now the number one priority in the retail space due to more online shopping by consumers.
As a certified MuleSoft Anypoint and Salesforce multi-cloud consulting partner, Ad Victoriam's integration experts understand the complexities of enterprise integrations, both on-premise and in the cloud. We simplify complex integration scenarios, integrate disparate systems, and provide a scalable architecture that your business can grow with – whether or not you are using Salesforce. So, if you are ready to connect your systems, we're ready to talk to you today.
Related Articles
YANMAR Returns for a MuleSoft Integration
Subscribe in a reader