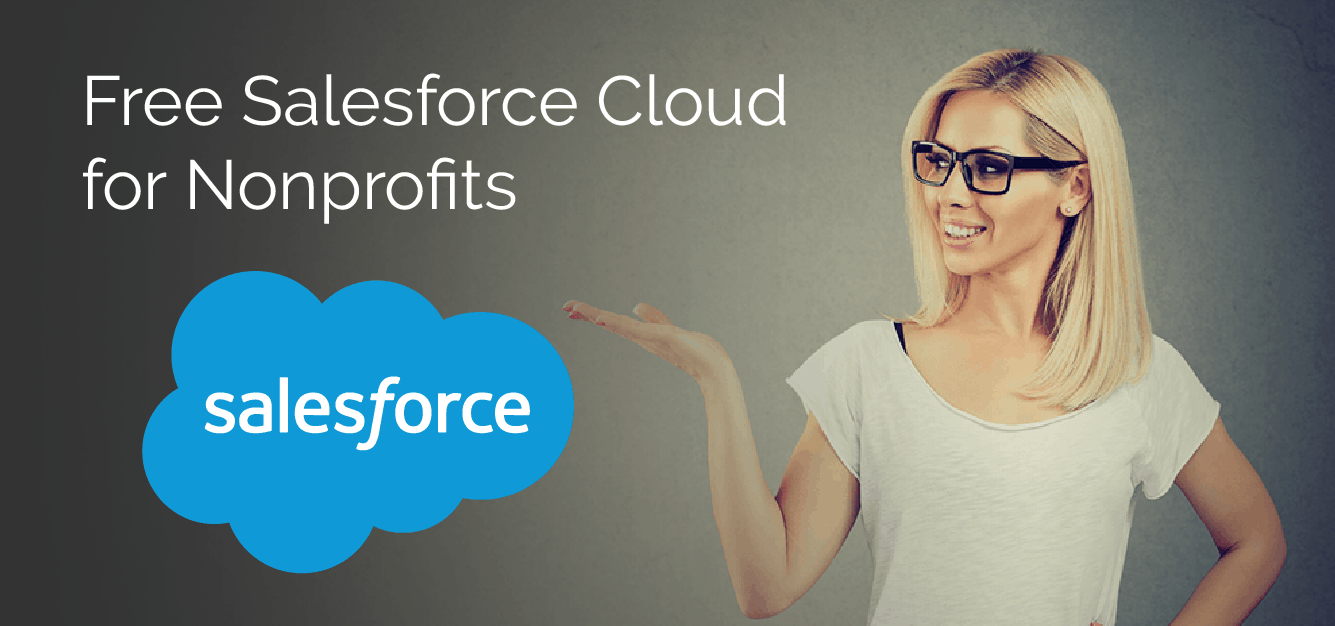 Free Salesforce Cloud for Nonprofits
Estimated reading time: 3 minutes
If you work at or serve a charitable organization, chances are that you've thought of ways in which your organization could run more efficiently.
Maybe your board is searching for new technologies, new processes, and anything and everything in between that might help the organization do more with less?
If this sounds like your situation, Salesforce's Nonprofit Cloud™ could be an answer.
Here are six keys to making the case for Salesforce's Nonprofit Cloud, plus tips to ensure it's impactful:
It's free! Through The Power of Us program, Salesforce® offers each nonprofit up to 10 free licenses (and this includes fiscally sponsored projects). Sign up for the trial, register your nonprofit with the Power of Us application, and you'll have your free licenses within 30 days.
It's more than a virtual rolodex. Yes, you will keep all of your contacts in Salesforce. But you'll also do so much more. Want to see who's donating frequently for a new campaign? You got it. Want to see who hasn't volunteered in more than six months? You've got that, too. With actions like donations and volunteer activity living in Salesforce, it becomes easier to track and measure existing (and new) KPIs.
No, it doesn't mean trashing your legacy systems. Salesforce is the leader in CRM software, so let's just say, "there's an API for that." Quickbooks, Xero, Freshbooks, and just about every other SaaS product will integrate with Salesforce fairly easily. And the more data coming in, the more analysis you can do.
Salesforce is what you do with it. There is an age-old adage in the IT world regarding data, GIGO: Garbage in, garbage out. And it's the same with Salesforce. If you don't have the processes (and discipline) in place to use your new system, it won't be very valuable. On the other hand, if you and the rest of the team are willing to learn, adopt, and use Salesforce, you'll be able to unleash its full potential. Secure executive buy-in and commit to getting the whole team on board and explain how it will help you better serve your mission.
Figure out your budget. Ask a Salesforce implementation partner to put together a quote for you. Be honest with your needs and your expectations and walk away with a budget, at the very least. This can be an important part of the decision making process. Also keep in mind that some partners offer pro bono options. As a certified B Corporation, AdVic is committed to donating 1% of our consulting time on an annual basis, roughly 1,200 hours, to help nonprofits implement Salesforce. So, if you don't really need a mobile app and 1,000 integrations, there are ways to do this without dusting off your checkbook.
Make an implementation plan. Unless you have extensive experience configuring Salesforce, or the time to learn along the way, you'll need to figure out how to get from vision to reality. The two main options, hiring an experienced Salesforce administrator or looking for outside help, both have their pros and cons. Once again, the recommendation would be to ask a Salesforce partner to help you make the right decision for your organization (figure out who oversees their pro bono budget and start with them).
Salesforce's free Nonprofit Cloud is a powerful tool for any charitable organization. Data all living in one place, no more Google Sheets and Docs and Excels, and the end of manual data entry for the sake of data entry. Whether you have a staff of twenty or two, Salesforce can free your team up to grow your impact.
If your nonprofit organization is considering a Salesforce solution, drop AdVic a note, as we're always eager to connect with missions we can get behind.
Follow in a Reader