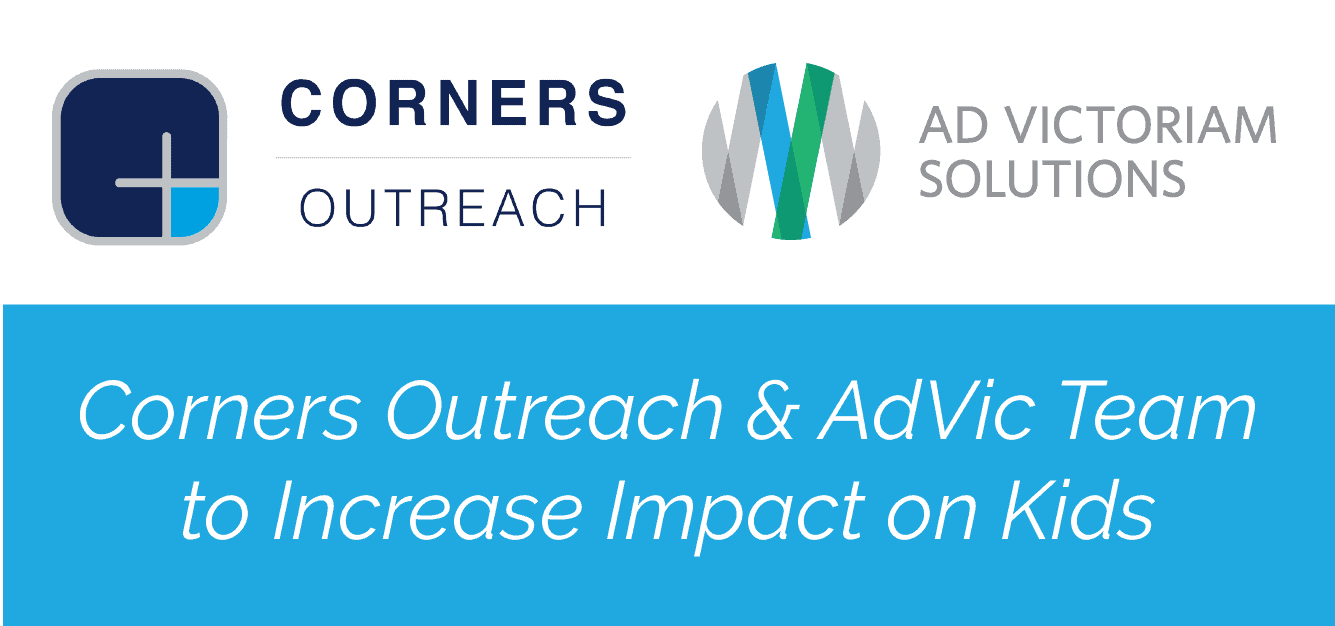 Corners Outreach & AdVic Team to Increase Impact on Kids
Estimated reading time: 3 minutes
For many families in the Atlanta, GA, suburb of Dunwoody, Corners Outreach is an incredible organization doing wonderful things to build "one community where everyone thrives."
Since their founding in 2012, Corners Outreach has taken a holistic approach to their service, helping the kids they serve, while also focusing on the success of each student's family.
As Corners Outreach continued to grow their impact, they soon realized that their legacy systems, a complicated matrix of Excel and Google Sheets, were working against them. That's when their executive director, Larry Campbell, decided to take action. Along with their sales director, Adam Quevedo, Corners Outreach decided to implement Salesforce's Nonprofit Success Pack™ (NPSP).
The process was easy. They signed up for their free licenses at Salesforce.org and completed their application with The Power of Us. This enabled them to access ten free licenses, or unique logins, for the Salesforce NPSP.
AdVic Lends a Helping Hand
Needing some help to implement it, but not wanting to divert resources from their students and families, Corners Outreach reached out to Nathan Stuck from Ad Victoriam (AdVic), a Salesforce® Partner and certified B Corp based in the Atlanta area.
"When we first met Larry and Adam, we got a real sense of their passion and a genuine desire to make a difference," Stuck explains. AdVic's team of certified nonprofit cloud consultants got to work importing legacy data and creating custom reports and dashboards, before moving on to setting up marketing campaigns for major fundraising events like Giving Tuesday. And most importantly to the team at Corner's Outreach, AdVic helped them standardize their interactions with their donors and recipients, ensuring no one falls between the cracks and engagement is easy to manage.
Corners Outreach's Executive Director Larry Campbell summed up their experience: "Ad Victoriam helped us beyond our craziest expectations. Adam and I have both used Salesforce in previous roles, so we knew what it was capable of, and we knew we needed it. But all we had was a vision. AdVic took that vision and brought it to life."
The feeling was mutual, as AdVic remarked, "Corners Outreach was an incredible organization to partner with. This type of work gives our employees the opportunity to make a difference with their day job, and meeting people like Larry and Adam reinforces our mission to use our business as a force for good. We're honored to help them further their mission and do more with less for those they serve."
About Ad Victoriam Solutions
Ad Victoriam is a Salesforce and MuleSoft® Partner who provides multi-cloud consulting services, from strategy to implementation. Our nimble team of certified professionals across the United States accelerates businesses by simplifying complex problems through cloud and data expertise. As a Certified B Corp – and a founding member of B Local Georgia – we balance purpose with profits and have made a strong commitment to the community. If you're interested in talking about your nonprofit and its tech needs, contact nathan.stuck@advictoriamsolutions.com, or reach out here.
About Corners Outreach
Corners Outreach is a nonprofit organization in Dunwoody, GA, that focuses on helping children be successful by equipping the entire family to lead full lives. They are rooted in the beliefs that we are better together, diversity should be celebrated, everyone can succeed when given the opportunity, and system injustices must be stopped for true change to occur. You can get involved by clicking here to volunteer or donate.
Related Articles
More Ad Victoriam Social Impact Stories
Subscribe in a Reader