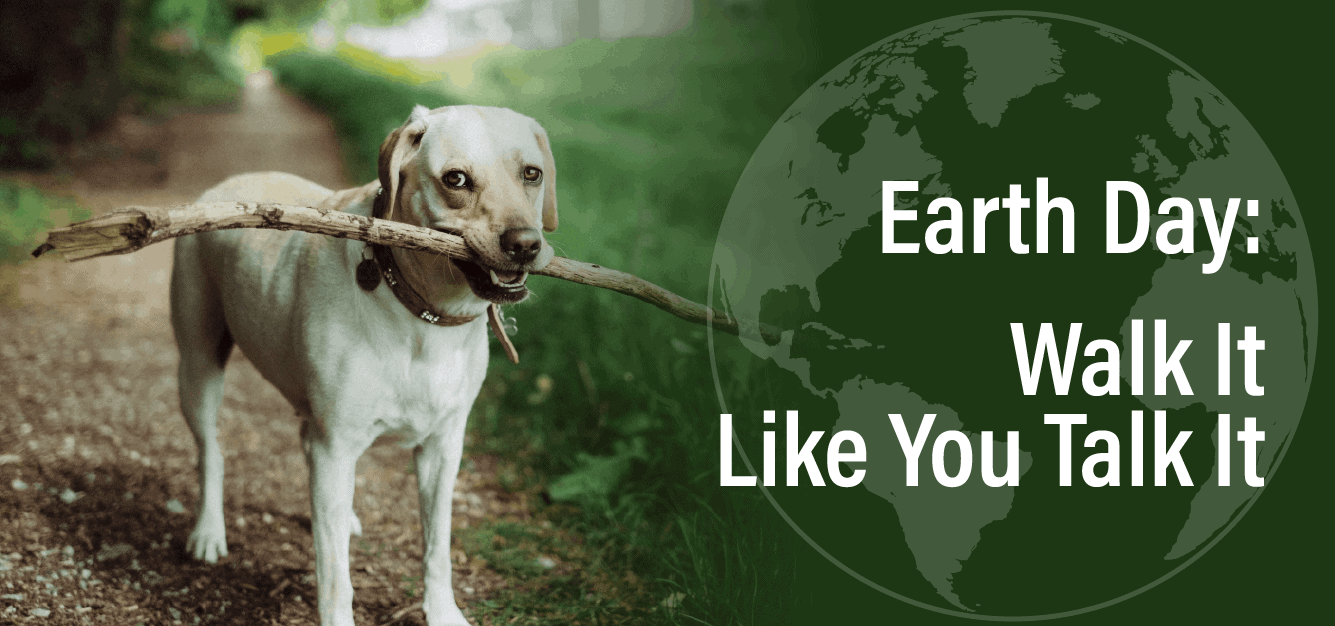 Earth Day: Walk It Like You Talk It
As we celebrate another Earth Day (April 22, 2020), we're acknowledging that this Earth Day celebration comes during a unique time. As a majority of the planet stays at home to prevent the further spread of COVID-19, it seems that the earth is hitting a reset button. One – anonymous – quote we recently heard resonates with us: "The planet, like an angry parent, sent us to our rooms to think about what we've done."
And amidst all the trials and tribulations of the past many weeks, some positive stories have also emerged. Everyday folks are helping to feed their community. Frontline hospital teams are working tirelessly to save lives. And there's a new appreciation for folks that were under-appreciated before. People like servers and cooks and sanitation workers and delivery men and women… And let's not forget John Krasinski's Some Good News!
But one other positive has emerged as everyone stays home, pollution levels have dropped significantly. Major European cities have seen a reduction of as much as 50 percent, and the northeast U.S. over 30 percent. In India, they are enjoying crisp blue skies and their lowest pollution levels in years. Their capital city, New Delhi, had previously registered pollution levels 8-20 times higher than what is deemed dangerous.
Our little blue planet is taking a deep breath this Earth Day. We hope this will remind governments, businesses, and everyday citizens to think about and implement, solutions to take care of our environment. With that in mind, we compiled a list of actionable things you can do to build your own ripple and limit your carbon footprint. We've also included the estimated amount of CO2 reduction, as estimated by scientists at Project Drawdown (and you can see the full list on their website).
Composting
According to Project Drawdown, in a landfill, biodegradable waste (fruits, veggies, leaves, grass, etc.), lacking the presence of oxygen, produces methane gas as it decomposes. Methane is 34 times more powerful (and bad for the climate) than carbon dioxide. Better yet, organic material is converted into stable soil carbon, which sequesters carbon and makes an excellent fertilizer. It is estimated that composting all of our biodegradable waste would eliminate two-three gigatons of CO2. Why not start composting with these tips from Good Housekeeping?
Eating Habits: Add More Plants to Your Diet/Reduce Food Waste
Another easy to implement, at-home solution (and one of the biggest personal impacts we can make) is to simply eat more plants. In fact, if the entire world adopted a vegetarian diet, we could reduce "business as usual" carbon emissions by 63 percent, reducing and sequestering between 65-91 gigatons of CO2 over the next 30 years.
Additionally, buy what you need and eat what you buy. As a planet, we waste one-third of the food we raise and prepare. And this food ends up in the landfill and will generate roughly 90 gigatons of CO2 over the next thirty years. And according to Project Drawdown, "the food we waste is responsible for eight percent of global emissions."
Recycling Paper
Did you know that paper can be recycled and reused five to seven times? Instead of using paper once and sending it to the landfill, and thus increasing the immediate need for more timber to make new paper, recycle it. If the world recycled just 75 percent of paper, estimates are that 1.1-1.95 gigatons of CO2 would be eliminated or sequestered over the next 30 years.
Around the House and Office
For those of you inspired to take it even a step further, there are a multitude of opportunities for home improvement projects that enable you to do your part to make the Earth happy!
For starters, you can follow our lead and install low-flow faucets, toilets, and showers in your home. Water has to be cleaned and heated, and then treated when it comes back as wastewater. This consumes energy and that contributes to climate change. Low-flow technologies can decrease water consumption by 45 percent. That alone could collectively eliminate an entire gigaton of CO2 over the next 30 years. At the very least, you get to do your part and save some money on your water bill!
Another easy way to help save both money and the planet is through the installation of a smart thermostat. It uses algorithms and sensors to "memorize your routines" and nudge users toward more efficient behavior."
And if you're feeling really ambitious and planning a remodel or a new home or office build, consider making it net-zero. Using a combination of daylighting, maximum insulation, electrochromic glass, solar panels, and advanced heating and cooling systems, it is indeed possible to have a building that is self-supporting. In Ad Victoriam's home state of Georgia, we are happy to recommend Imery Construction Group, a fellow certified B Corp and expert at net-zero building and remodels.
Your Next Car: Points to Ponder
Here's your fun fact of the day. There are now over one million electric vehicles on the road today.
A move to all-electric cars would save us 12-15 gigatons of CO2 over the next 30 years, whereas a move to hybrid vehicles would save us 4.5-7.5 gigatons.
So either way, consider a switch the next time you shop for a new car.
We hope you found this article useful and informative. And most of all, we hope it challenged you to rethink old habits. There is no problem too large to solve. Don't sit on the sideline with your head in your hands. Don't lament about the size and scope of the climate change challenge. Instead, understand you can help by playing your part. Start building your ripple of change now. And what else do you have to do this weekend that's better than starting a compost pile and watching it rot, sustainably?
If you would like to learn more about how your company can become a Certified B Corp like Ad Victoriam, we invite you to contact us here.
Related Articles
B Corp Reflections Two Years In
AdVic's B Corp Mission Continues
The Gold Standard of CSR
Subscribe in a reader