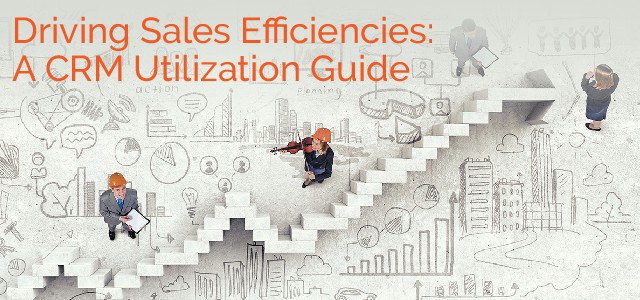 Driving Sales Efficiencies: A CRM Utilization Guide
Estimated reading time: 4 minutes
Salesforce® is an essential and dynamic business tool. When used effectively, sales and marketing teams are met with significantly less challenges in their every-day operations. From visual dashboards to automations Salesforce is a CRM that works for its users. The platform brings efficient processes that allows you to focus on building an everlasting relationship with customers and optimizing daily schedules.
To be competitive in current times, businesses need to transform the way they engage with customers. Salesforce collects important data that helps teams to build 1-to-1 customer journeys. However, it can only do so much. It is important to train stakeholders on the numerous features of Salesforce to utilize every benefit.
To have a successful CRM solution it is important to focus on important aspects of the tool. On the AdVic Salesforce Simplified podcast episode titled "How CRM Utilization Drives Sales Efficiencies," with T-Mobile Business Sales Manager Kenneth Scott, we discuss how he leads his team every day in executing key business goals and how they can work for your company.
Optimize Your CRM Platform Guide
As an everyday user of Salesforce, Kenneth is a go-to man on this topic. He manages his T-Mobile team and leads them to victory one automation at a time. In this guide, he offers his best practice tips to optimize your CRM platform.
Create "War Reports": "War Reports," as he's labeled them," are unique to Kenneth's team. Without having to micromanage or disrupt his team, he is provided with customized visual dashboards of his sales reps' progress and task tracking, War Reports also display valuable metrics to managers and reps to set new strategies and to meet greater goals. Kenneth adds, "This also works for meeting ratios."
Trust Automation: Kenneth describes automated reports as "everything!" At the end of every day, he receives an automated report via email that provides him with gaps that need to be filled amongst his reps and frequent reminders of any unfinished tasks.
"Salesforce helps us execute our key initiatives is customer retention."
Embrace Salesforce's Flexibility: Salesforce eliminates tedious and manual tasks from salespeople, one being exporting leads from third-party databases directly to Salesforce. As Kenneth says, "This allows for salespeople to begin making calls immediately. Also, with the flexibility the platform offers, reps have access to their list on mobile, tablets and laptops. Lists can be cloned, categorized, and created in Salesforce as they would in Excel."
Favorite Salesforce Feature & Wins
Kenneth's Favorite Salesforce Feature: Kenneth says his favorite tool is Opportunities. "That's because then you are able to scale your business the way you want to from either going to discovery, to business needs, to proposal stage, to negotiation stage, and finally the commitment stage. And my favorite part of the Opportunity stage is how easy it is to maneuver through it. I also enjoy its easy talking points, too, especially when I'm speaking one-on-one with my reps asking about certain Opportunities. It's all right there for us."
Wins with Salesforce: Salesforce limits preventable leaks by tracking, managing and reminding reps of opportunities and tasks to stay on top of. Kenneth explains, "It helps us execute our key initiatives is customer retention, as far as keeping our customers. As we go through our system, we can see our active customer base."
Adding a CRM can serve as a key driver of digital transformation for your company, and the Salesforce consulting team here at AdVic has years of experience implementing and integrating systems with great success. Perhaps we can help you make the case to your stakeholders about the benefits of a CRM? We're excited to get you there! Next step? Let's talk.
Related Resources:
Tracking People. Places and Things with CRM – Podcast
Turn Sales into Selling Machines with CRM, AI, and More – Podcast
How to Convince Your Stakeholders It's Time to Get a CRM
Follow in a Reader