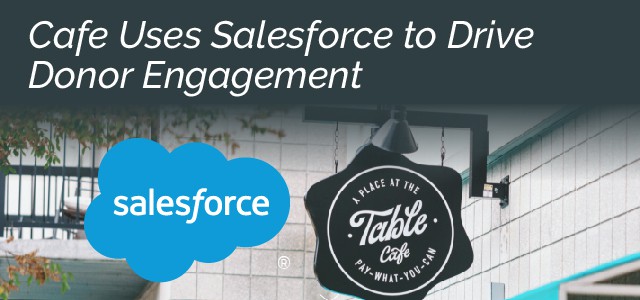 Cafe Uses Salesforce to Drive Donor Engagement
Estimated reading time: 3 minutes
For those that live in Raleigh, NC, or have ever visited, there's a good chance you've enjoyed a meal at A Place at the Table. From their delicious biscuits and gravy to their beloved chicken noodle soup, this cafe serves delicious food and does things a little differently. Unlike most restaurants, A Place at the Table is a nonprofit organization, serving community and good food for all, regardless of means.
With a unique pricing structure that asks customers to pay what they can, they allow those in need to pay as little as $3 for their meal or work it off by volunteering. And because of this approach, they also rely on the generosity of their other customers, as well as donors, to bridge the gap. When the pandemic placed an even heavier reliance on this need, they realized they needed help filling this gap.
That's when A Place at the Table turned to Salesforce's nonprofit success pack, a free version of the popular Salesforce® customer relationship management software. This solution would allow them to more effectively, and efficiently, recruit new donors, set up recurring donations, and thank those that donate. It would also serve as a hub for the different technologies they use to collect donations, including Paypal, Give Lively, and Square.
AdVic Lends a Helping Hand
After completing the application for their free Salesforce licenses, A Place at the Table also realized they needed help implementing the software and integrating all of their legacy systems. That's when they reached out to Ad Victoriam Solutions (AdVic) for help. With our extensive experience implementing the nonprofit success pack, we were able to offer the right kind of helping hand.
Best yet, as a Certified B Corp, AdVic was able to offer 25% of the project as pro bono work through our commitment to Pledge 1%, a pledge to donate at least 1% of annual revenue in the form of nonprofit work. A Place at the Table's executive director, Maggie Kane, knew about AdVic through a mutual connection and made the call. "AdVic has been active in the B Corp community for a while now and I have a lot of friends in the Raleigh B Corp community, so I knew I could trust them to be transparent and honest with us," Kane states. "They went above and beyond my expectations, making sure to stay within our approved budget and even accomplishing what I thought would need to be done in a Phase 2."
AdVic was just as thrilled to work with an organization like A Place at the Table. These types of projects give AdVic's team a sense of purpose in what they do every day, a sense of knowing that they're making an impact for a wonderful organization that is serving a major need in the community.
An all-around win-win, this project was a fulfilling success for everyone involved. If you're in the Raleigh area, stop in to A Place at the Table, enjoy a wonderful meal and add a little extra on the donation line when you complete your purchase.
Watch the Angel Oak Creative Interview with A Place at the Table and AdVic
In need of a technology solution for your nonprofit? Check out Salesforce's nonprofit success pack here and fill out The Power of Us application to get your nonprofit licenses. And if you're in need of help implementing the software, or just want to see if it's right for you, feel free to reach out to AdVic here.
Read More BCorp Blogs from AdVic
Follow in a Reader