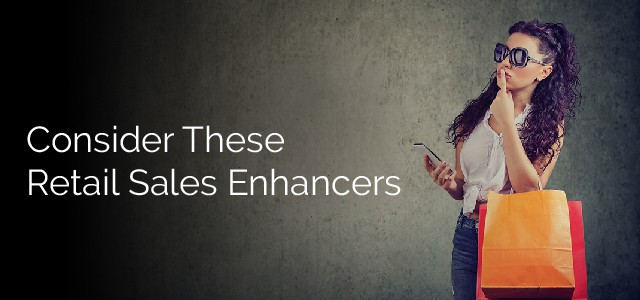 Consider These Retail Sales Enhancers
Estimated reading time: 5 minutes
The world of retail has changed dramatically for retailers and their shoppers.. In years gone by, retailers have been famous for having anonymous, transactional relationships with their shoppers, but now both retailers and their consumers are demanding deeper relationships with each other. And if retailers want to win today, they have to empower their consumers, deliver an array of personalized shopping experiences, across all channels, and provide precise product details that encourages purchases.
During a recent AdVic "Salesforce Simplified" podcast, Helbig Enterprises' Diane Helbig spoke about retail sales, and on what has changed for retailers and shoppers, especially as a result of the pandemic, and how retailers are bidding for customer business via personalized journeys, and more. Here are some highlights from that discussion:
How are people buying in today's market and how can retailers better target those consumers?
"Because of the pandemic, some buying behaviors have changed. Some have not. And for many consumers, the current trend is like it was in 2008 when the economy turned and people started saying, 'Okay, I'm going to buy what I need, but the things that I want I can hold off on.'
"Buyers are also in an environment where some things are hard to get, so they're looking for retail locations that are problem-solving. It's no longer prudent for retailers to be saying, 'If I have it, I have it, and if I don't, then it's not something that I sell.'
"What buyers are looking for is the retail location to help them find that product they want or help them find a reasonable replacement for something and to really understand what the consumer is going through and helping them meet those needs.
"Nowadays, retailers have things like curbside pickup or free delivery so that the consumer can decide: 'Do I want to go in the store, or would I really rather just pull up and have you throw something in my trunk?'
"And there are now many retailers that are connecting with their customers in a more visual way, saying things like: 'Let's have a conversation. Let me show you what we have.'
"And they are also asking consumers direct questions like: 'What is it you need – or can I answer any of your questions?'
"Retailers have a lot of options, and I really believe that they need to expand their thinking on how they can deliver to the consumer."
Bottom Line:
Be a problem solver for customers.

Connect with your customers/have a conversation with them.

Offer the "convenience perks": things like curbside pick up and free delivery.
What advice do you have for retailers to create a better personalized journey for their customers?
"I think the retailer needs to really think about who their customers are, how they buy, and what their customers want. And as a result of today's technology offerings, retailers can create a much more personalized experience for their customers. I'll give you an example of what I'm thinking…
"If I'm a retailer and I've got return customers and I know them, I should be reaching out to them and saying, 'Hey, we've got some new items in the store. I would love to get on a video call with you so I can show them to you. And if it's not something we have, I'm happy to go look for it.'
"That scenario is more of a one-on-one conversation that the retailer is seeking, not waiting for the customer to say, 'I have a need,' but reaching out to the customer and saying, 'Based on your previous history of buying, we just got these items and I thought you might be interested in them.'
"So, between that verbal and/or video conversation, there can be a genuine retailer to customer connectivity."
Bottom Line:
Create a personalized experience for your customer.

Look for innovative and unique ways technology can provide one-on-one conversations with your customers.
How do you advise retail clients what to do on social media?
"Retailers should not be out there selling their products on social media. I think what they should be doing is using social media to do things like Facebook Lives, where you show people how to do something, or you bring in an expert and have them share some sort of a tip where you give information that is valuable to your customers.
"An example of a Facebook Live could be – if, say you were in the scarf business – showing people how to repurpose their scarves or how to tie their scarves or whatever you choose to talk about.
"Also, get involved in the community. If you're already involved in the community, share information about that via social media picture posting.
"I also don't think retailers have to be posting a lot; I think that's a misunderstanding of social media. I believe retailers need to be posting consistently and their content has to be relevant to their audience. They want to think about what information would be valuable to their customers.
Bottom Line:
Retailers should not be selling their products on social media.

Use live options such as Facebook Live or Instagram Stories to reach customers

Make sure the content you are posting to social media is relevant to your customers.
Reach Diane Helbig via the Helbig Enterprizes website.
And if you are looking for a partner to help you drive shoppers down the path to purchase, AdVic is ready to help you starting today. Reach us here, or fill out the short form below.
[gravityform id=5]
Related Articles/Resources:
Income-Generating API Strategies for Retailers
Sales is Not a 'Churn and Burn,' It's a Partnership
Follow in a Reader