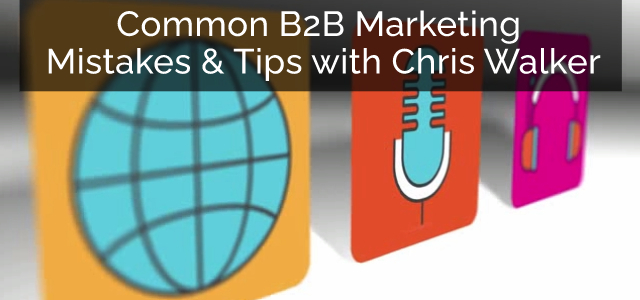 Common B2B Marketing Mistakes & Tips with Chris Walker
Estimated reading time: 6 minutes
On a recent Ad Victoriam "Salesforce Simplified" podcast, we invited Refine Labs CEO Chris Walker to talk about the state of B2B marketing today.
Chris and his team help B2B companies change how they think about measuring and executing marketing so they can stop worrying about lead volume and start generating revenue.
In addition to his CEO duties at Refine Labs, Chris also hosts Revenue Vitals podcast, which mixes live Q and A and chats with some of today's top B2B leaders to share some tangible advice and tactics.
Here is just a taste of the many B2B marketing topics we covered with Chris on the podcast.
Common Mistakes B2B Marketers Making Today
On this subject, Chris remarked, "I think basically you can categorize the challenges that B2B marketers face today into three core buckets. You have mindset, you have metrics and measurement, and you have execution. And my strong belief after advising and working with more than 200 high-growth B2B companies in the past four years is that the actual issues start at mindset, then get driven down to measurement, and then negatively impact execution. And so the actual way to solve this is not to have your B2B marketer try and run their ads better or make a better piece of content. You actually, as executives and business leaders, need to look at this at a much higher level and think, 'What is the actual mindset of marketing?'"
Chris expounded, "The overall mindset inside of B2B companies is that marketing is a servant to sales. Marketing's job is to get leads or other types of signals through MQL scores, buying lists, scanning trade show booths, running content syndication to get "leads," contacts at an account so that their sales team can try to sell to people. And the fundamental shift in the mindset has to be our job for marketing inside of our company is to drive buying processes at scale independently with all of our target accounts all the time, to create an ecosystem with all of our target accounts so that they're learning, progressing, understanding the business problems inside of their own business, what the metrics should look at, what the solutions could be, what people try that fail. And you need all of the key people inside of all your target accounts to be getting that information all the time."
Tips for a Strong Digital Presence
We were curious as to Chris' thoughts on the amount of effort companies are putting into their online presences today. Here's what he told us:
"A lot of companies over-prioritize their websites. They build a ton of website pages and they spend a lot of time doing SEO content, which was the "best practice strategy" in the early to mid-2010s popularized by HubSpot and other vendors.
"And when those strategies were developed and popularized, social media was in its infancy. Facebook was only used by college kids. A company like Pepsi didn't have a Facebook page when this stuff was happening. And the progression of what's happened with social networks, private communities, a lot of places like this over the past 10 years is that it's basically how people use the internet and get information today through social networks. And so if you are not present in these key places where your buyers log in multiple times a day, some people 10-20 times a day log in to LinkedIn to consume content and collaborate, if you're not there, then you're missing out on potential business."
Measuring B2B Campaign Success
Many B2B marketing teams today struggle with measuring a campaign's success, and so we asked Chris to talk about what marketers should be paying attention to today.
"Depends what the goal of the campaign is," Chris remarked. "In a high-intent search, you sell FP&A software and there's a buyer in Google Search that's searching FP&A software and you're going to buy that keyword, you should be measuring it on dollars of pipeline created versus dollars of ad dollars spent. You should have a ratio of pipeline dollars per ad dollar. And then eventually, if you go at it long enough, you should be able to get to a close one revenue over at ad spend dollar and just get ROAS. So for demand capture type of stuff, you should be measuring ROAS and cost of acquisition.
"And then when you think about demand creation, this is where a lot of B2B companies get stuck. And I'm sure B2C companies get stuck on it too because everybody's looking for the attachment to revenue. And the core thing about demand creation, especially inside of dark social channels today, is that the measurement is very difficult to accomplish with the current measurement methodologies and technologies that are used in companies."
Skills B2B Marketers Need Today
Oh, sure, Chris could have just given some blanket advice here on the skills today's B2B marketers need, but he went a little deeper.
"It really depends on what your goal is," he acknowledged. "If you want to be a senior marketing manager, make $120K, and take care of your family and have all the weekends, you're going to have a different plan than the person that wants to be the CEO of a $100 million run rate company.
"But some blanket things that I think would make marketers far more effective at any level and get increasingly important as your level goes up, business acumen and financial basics. You have to be able to read a P&L. You have to understand how to calculate the cost of acquisition. You need to understand key metrics that your finance team is looking at every day, every month, every quarter. Getting primary market research directly from customers in qualitative and quantitative formats. Every marketer should be doing this, not just the product marketing team. So all marketers should be engaging with customers, understanding them, coming up with perspectives on overall strategy and tactics. I'd be hard-pressed not to say that if you are a marketer today and you don't create content for yourself or your business, then you're really missing out. The number one driver of business results today is content that gets put in social networks."
There were a lot more B2B marketing topics we talked about with Chris during the podcast, including his thoughts on misconceptions about B2B marketing, we talked deeper about the relationship of B2B marketing and social media, and how B2B companies can better target their ideal customers. Listen to the entire podcast here.
Is your business in need of a B2B solution? No worries, because the AdVic® B2B Commerce team has the skills and expertise needed to get your branded storefront up and running quickly so you can drive new revenue. Let's explore your options and start creating your roadmap to success today!
Related Resources:
B2B Marketing Tips You Have Not Thought Of (Podcast)
B2B Marketing Tips You Have Not Thought Of – Part 1 (Blog)
B2B Marketing Tips You Have Not Thought Of – Part 2 (Blog)
Subscribe to the AdVic Salesforce Blog on Feedly: