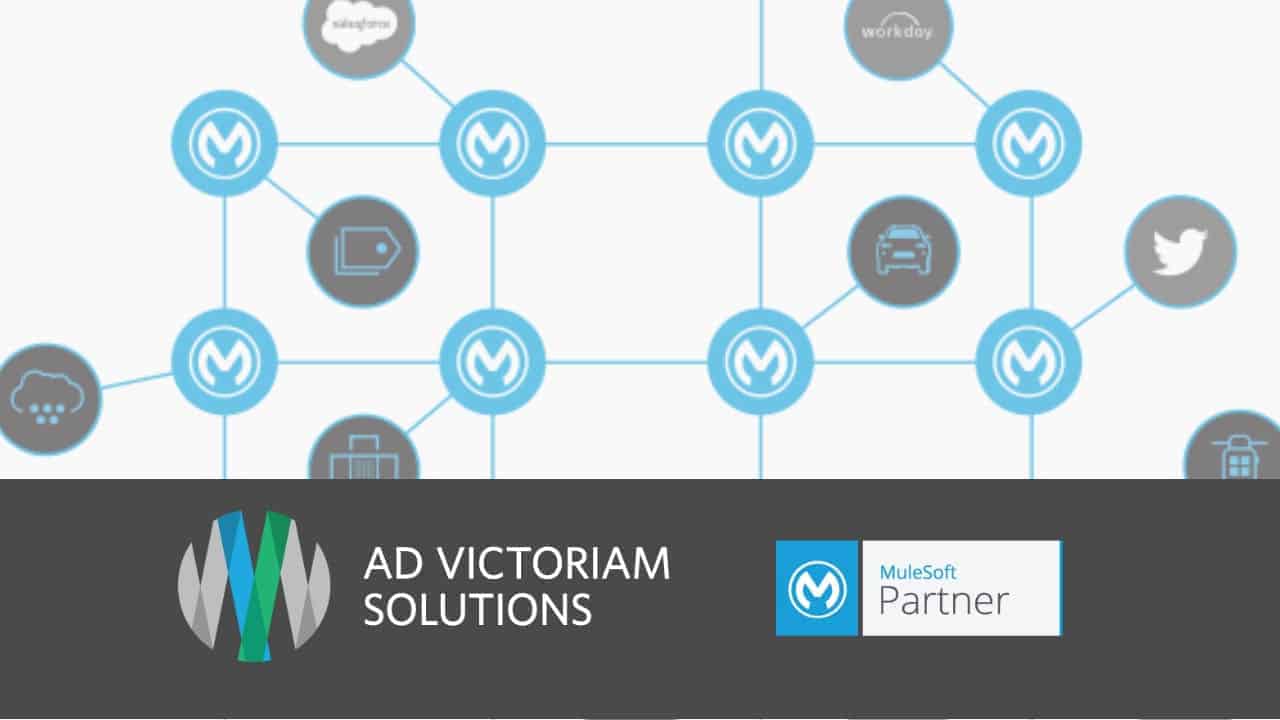 Ad Victoriam Joins the MuleSoft Partner Program
Ad Victoriam Solutions to Provide Anypoint Platform Consulting to Support
Connecting Applications and Data in the Cloud and On-Premises
ATLANTA, GEORGIA – (April 4, 2019) – Ad Victoriam Solutions (AdVic) today announced its partnership with MuleSoft to provide consulting services for MuleSoft's Anypoint Platform™. Anypoint Platform unlocks the power of API-led connectivity, enabling organizations to connect apps, data and devices more rapidly and efficiently.
MuleSoft provides the leading platform for building application networks. Ad Victoriam Solutions' implementation expertise and industry knowledge, coupled with MuleSoft's technology, gives clients the support and tools they need to harness the rapidly growing number of apps and data sources. With Anypoint Platform, organizations can unlock new revenue channels, improve customer experiences and drive innovation.
Ad Victoriam consultants have decades of experience with B2B and B2C businesses undergoing change – expansion, acquisition, merger, and growth – who lacked the information system infrastructure to scale and transform. Ad Victoriam leverages its deep knowledge of MuleSoft's Anypoint Platform™ to help businesses achieve API-led connectivity, beginning with design and architecture through implementation to create a central application network that manages the entire API lifecycle.
"We are proud of our incredibly capable team who enabled us to now be recognized as a certified MuleSoft partner," said Eric Phillips, Chief Information Officer, Ad Victoriam Solutions. "In earning this designation, we join the ranks of MuleSoft's partner ecosystem in North America, and one of only 12 who are also a certified Salesforce partner. I am proud of our growth and look forward to supporting more businesses as they look to scale and transform."

"With the explosion of disparate technologies today, connecting them all quickly and efficiently is the key to gaining a competitive edge. Through its partnership with MuleSoft, Ad Victoriam is enabling its customers to create a dynamic application network to achieve their goals and accelerate their pace of business," said Brent Hayward, senior vice president of global channels and alliances, MuleSoft. "We're pleased to welcome Ad Victoriam into MuleSoft's partner ecosystem and look forward to working together to deliver significant business impact to our mutual customers."
As a MuleSoft Partner, Ad Victoriam helps clients address on-premises, cloud and hybrid integration use cases with scale and ease of use.
About Anypoint Platform
MuleSoft's Anypoint Platform™ is a leading application network platform. It allows organizations to create composite applications that connect apps, data, and devices through API-led connectivity to form a flexible application network. Anypoint Platform is a unified, single solution for iPaaS and full lifecycle API management, both on-premises and in the cloud.
About Ad Victoriam Solutions
Ad Victoriam is a certified MuleSoft and Salesforce Partner who provides mission-critical consulting services, from strategy through implementation. Our nimble team of professionals accelerate businesses by solving complex problems through cloud, data, and integration expertise. As a certified B Corp, we put purpose over profits, and have made a strong commitment to community.
MuleSoft is a registered trademark of MuleSoft, Inc., a Salesforce company. All other marks are those of respective owners.
###