The Difference Between Tableau & Tableau CRM
Estimated reading time: 7 minutes
Nothing moves without data analytics. Salesforce's Tableau™ and Tableau CRM™ offer data solutions that are easy to analyze, and implement well with existing databases and/or Salesforce® CRM. Depending on a business's needs or wants, one may work better than the other. However, having clean, usable data in a single system propels business forward.
On a recent episode of AdVic's "Salesforce Simplified" podcast, our Analytics Practice Director, Abby Schreiber, gave valuable insight into the differences between Salesforce Tableau and Tableau CRM, including use cases of the two.
About Tableau and Tableau CRM
Tableau is a software that works for all industries with business of all sizes. It allows anyone to visualize and analyze their data from virtually anywhere! Tableau connects with a number of databases making it accessible, and a necessity, and presents its users with ease of use as it pulls data and information from various sources and compares them alongside one another.
"Tableau CRM does offer a handful of data connectors of its own," Abby remarks, "but really it's primarily used to analyze the data that's in Salesforce. So, it's used to maximize sales, service, and any Salesforce specific functions. So, the insights and visualizations from Tableau CRM can be plugged in alongside any live opportunities, cases, accounts, and any live data in Salesforce to help those Salesforce users make real-time decisions."
Distinguishable Differences
While both Tableau and Tableau CRM are powerful reporting tools, they have noteworthy differences. One of the primary differences is that Tableau CRM is unique to Salesforce's ecosystem. Tableau is a stand-alone product that can exist on its own. Again, both tools are impactful, but depending on use-case, Abby says, "One may be better than the other."
The Advantages of Tableau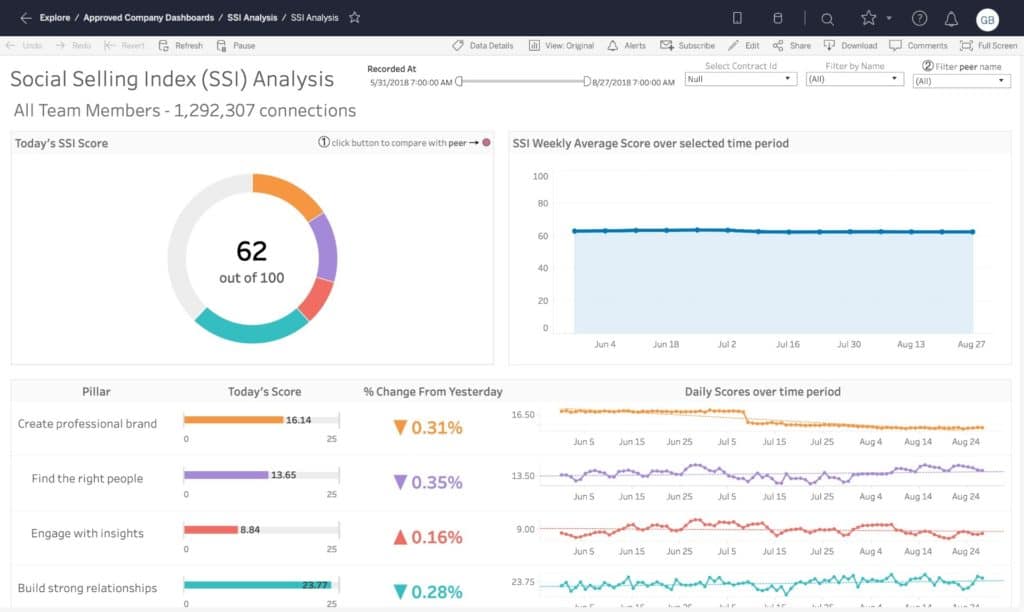 If a company has data in multiple systems and uses it across multiple functions within its business, Tableau is a great fit for them. Being that Tableau functions with practically any database, companies are empowered to incorporate data across a variety of sources.
Abby adds, "Additionally, if it's important for these insights to be shared with both Salesforce and non-Salesforce users, Tableau is definitely a better choice because it isn't unique to the Salesforce ecosystem. It isn't going to require you to have a Salesforce license to view. If you need to report on data across the entire organization, outside of just Salesforce data, you're definitely better off with Tableau."
The Advantages of Tableau CRM
A company that has implemented Salesforce, in need of reporting tools specifically for their users, will benefit most from Tableau CRM. Tableau CRM not only benefits Salesforce users, but changes the way they perform.
As Abby explains, "A company has to be comfortable reporting predominantly using Salesforce data, and they also should have an interest in really embedding these analytics within the Salesforce ecosystem, making these insights actionable in real time for their Salesforce users. This reporting tool makes it super easy to help the everyday Salesforce user make informed and efficient decisions."
Tableau and Tableau CRM in Contrast
While both Tableau and Tableau CRM have the same look and feel, they differ. The biggest contrast is the use cases. Abby reiterates the difference noted as, "A Tableau dashboard might be a more holistic view, big picture, enterprise focus, function across function within a company, while a Tableau CRM dashboard would probably just be specific to data that's in Salesforce."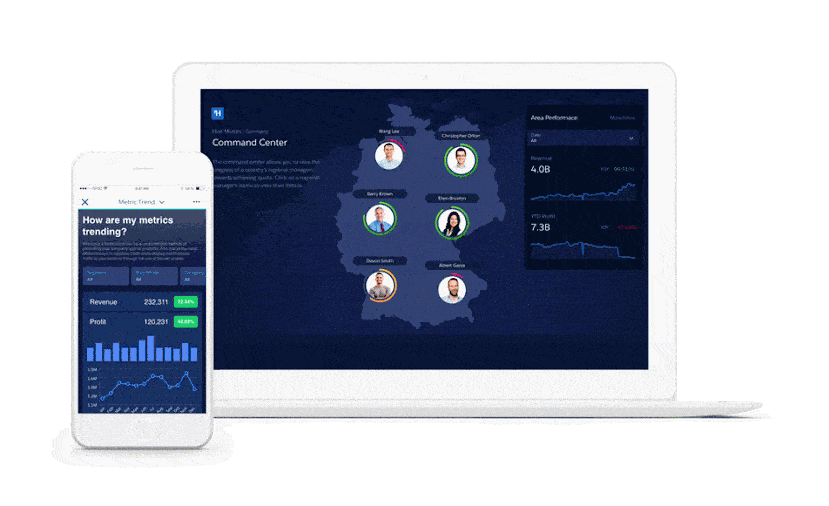 Frequent Customer Data Pain Points
The most common pain point that AdVic's customers face is having data exist in multiple systems. Both Tableau and Tableau CRM can remediate this problem. However, Tableau is a better fit when there are multiple data sources that need to be reported in one system. This also alleviates the burden of managing dashboards manually on a day-to-day basis.
Another major pain point Abby says, "is the use of Google Sheets or Excel to produce and maintain these visualizations, which long-term is such a burden on the person who is maintaining them. So, if we see this happening, Tableau CRM or Tableau, can help with that because the data is always going to update instantaneously on a set schedule."
Victories With Tableau and Tableau CRM
AdVic has empowered numerous customers with efficiency by way of Tableau products. Sales and support reps who once spent countless hours maintaining and managing data can now access data through dashboards that update frequently.
In particular, Abby relates, "We recently created a dashboard [for a customer] to track their average lead conversion rates, times, and factors to help sales reps make a decision about when to continue to pursue a lead or when to just stop pursuing a lead."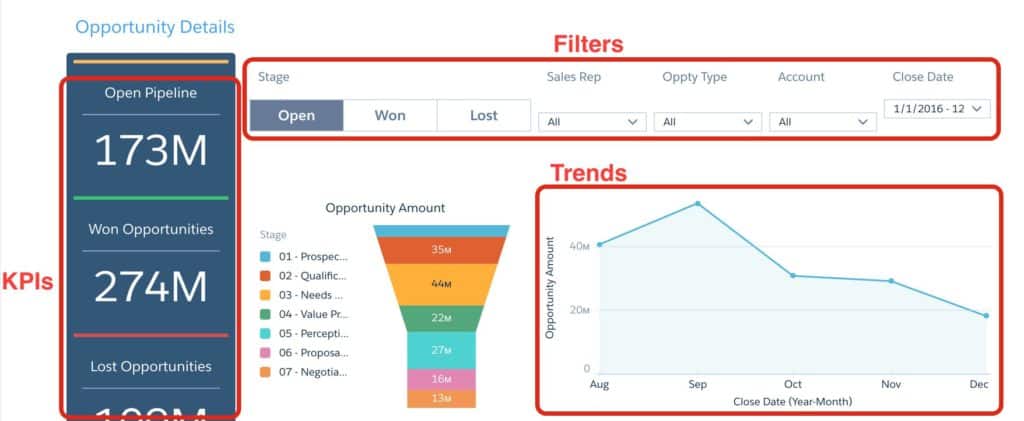 She adds, "This customer now uses that dashboard to track the key characteristics of a lead that delivers a successful conversion or a dead lead. They use this dashboard throughout the day, helping their sales team to target credible leads, be more efficient, and have more time throughout their day."
Adaption Post-Implementation
Introducing new software to the workforce can be intimidating, however that is a challenge that AdVic chooses to fix out-of-the-gate.
"In the beginning of the project," Abby says, "we get to know the customer, their needs, users and owner of maintaining, managing and creating new dashboards. From there, they are engaged from the beginning to the end of the project. We use this process to ensure their comfort ability and competency when maintaining dashboards, reports on additional metrics moving forward.
"On the other end," Abby continues, "adoption amongst the audience is also a priority. This means understanding their current dashboard; the pros and cons of it. From there, we translate those evaluations into a new Tableau or Tableau dashboard. In the end, user adoption is a success because of the precautions and understanding of their needs."
The Future of Tableau & Tableau CRM
Abby predicts that one day, Tableau and Tableau CRM will become one in the same. A recent rebrand from Einstein to Tableau CRM supports her theory.
"On top of that," Abby adds, "there have been some recent announcements around being able to integrate some Tableau CRM functionality, specifically around another tool – called Einstein Discovery – being able to integrate the metrics from that tool into Tableau."
Lastly, Abby says, "There is currently an active effort to integrate both tools, as they look alike. But there have also been very recent changes to Recipe Builder in Tableau CRM, so that it matches the data prep tool, which is really just the data cleansing and relationship tool found in Tableau."
As always, stay tuned… AdVic will keep you posted on any and all Salesforce updates.
When you implement Tableau or Tableau CRM, you transform your data into powerful, interactive dashboards. Plus, you can securely share your data and dashboards so everyone in your organization can ask and answer their own questions right from a browser, tablet or phone. Let the AdVic multi-cloud consulting team show you how.
Related Resources:
What's the Difference Between Tableau and Tableau CRM? – Podcast
The Analytics Power Inside Salesforce Tableau and Tableau CRM – Podcast
Follow in a Reader