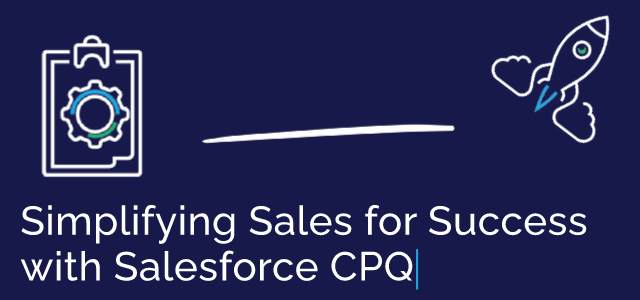 Simplifying Sales for Success with Salesforce CPQ
Estimated reading time: 5 minutes
Salesforce CPQ™ (Revenue Cloud), or Configure, Price, Quote from Salesforce® is a sales tool for companies to provide accurate pricing with any given product configuration scenario. CPQ applications take into account optional features, customizations, quantities, and discounts, allowing sales reps to quote prices quickly and accurately. Salesforce CPQ gives your sales team easy-to-use software available on any device due to its cloud-based platform. It's hosted within Salesforce's Sales Cloud™ platform, giving you a direct link with your CRM to make the most impactful sales decisions.
In this Ad Victoriam Salesforce Blog, we will explore the benefits Salesforce CPQ brings to businesses in any industry.
Increased Sales Velocity
Salesforce CPQ empowers your sales team to accelerate the sales process by providing a user-friendly platform that automates complex quoting processes. With real-time pricing and product configurations, your sales representatives can create accurate quotes quickly, reducing the time it takes to close deals. By eliminating manual errors and delays, your team can focus on building customer relationships and closing deals faster.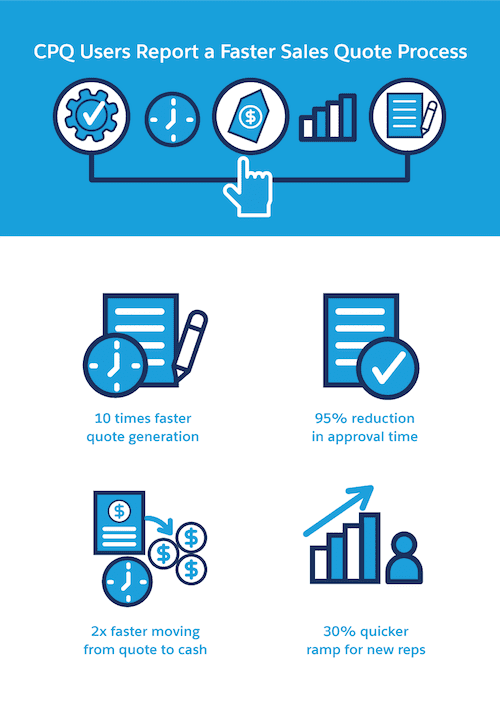 Improved Pricing Accuracy
Pricing accuracy is critical to maintaining profitability and customer satisfaction. Salesforce CPQ ensures that your pricing remains consistent across all channels by automating pricing rules and discount calculations. With this tool, you can easily manage complex pricing structures, promotions, and discounts, enabling your sales team to provide accurate quotes and avoid costly pricing mistakes.
Enhanced Product Configuration
In industries with a wide range of product options, configuring products to meet customer specifications can be a daunting task. Salesforce CPQ simplifies this process by providing a guided product configuration tool. Your sales team can effortlessly navigate available options, ensuring that the final product aligns perfectly with the customer's requirements. Not only does this save time, but it minimizes errors, resulting in increased customer satisfaction.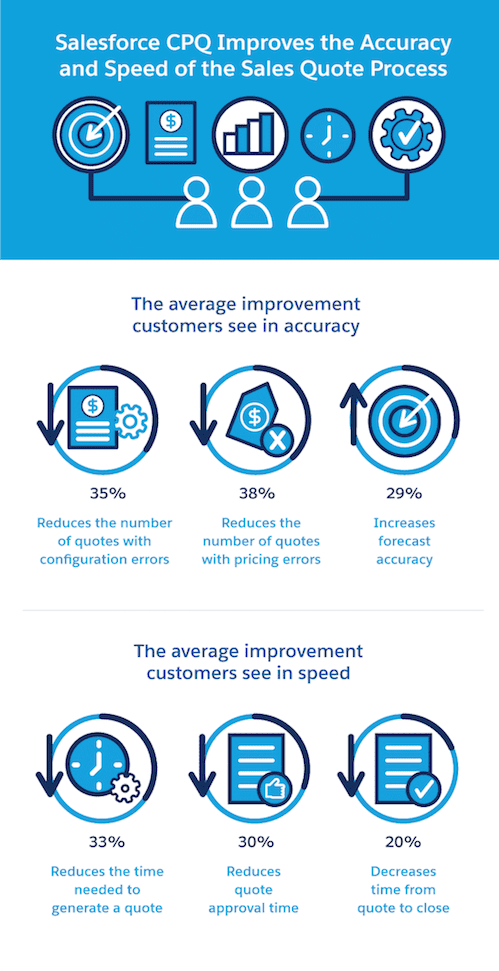 Streamlined Contract Management
Salesforce CPQ seamlessly integrates with Salesforce Contract Management, allowing you to streamline the entire contract lifecycle. From contract creation to renewal and amendments, all automated processes ensure accuracy and compliance. By automating contract generation, approvals, and renewals, your sales team can focus on nurturing customer relationships instead of getting bogged down in administrative tasks.
Enhanced Cross-Selling and Upselling Opportunities
Salesforce CPQ provides your sales team with valuable insights into customer preferences and buying patterns. With this information at their fingertips, they can identify cross-selling and upselling opportunities, increasing revenue per customer. By offering personalized product recommendations, your team can maximize customer value, driving long-term loyalty and repeat business.
Summary
Salesforce CPQ is a game-changer for businesses in the manufacturing, retail, healthcare, and high-tech industries. By automating sales processes, increasing sales velocity, and improving pricing accuracy, this tool empowers your sales team to close deals faster and more efficiently. With streamlined contract management and enhanced cross-selling opportunities, Salesforce CPQ enables businesses to optimize revenue and boost customer satisfaction.
The key benefits of using Salesforce CPQ are:
Increased sales velocity through streamlined quoting processes.

Improved pricing accuracy, reducing costly errors.

Enhanced product configuration, meeting customer requirements efficiently.

Streamlined contract management, saving time and ensuring compliance.

Increased cross-selling and upselling opportunities, maximizing revenue per customer.
How AdVic Can Help
One client turned to AdVic® for their CPQ solution because they used the standard quoting system within Salesforce alongside Excel spreadsheets to manage their quoting process. Their processes were labor intensive and decreased productivity. With multiple product lines at varying levels of functionality, the client needed a more robust system to streamline their quoting process. We resolved it with four steps:
1. Quote to Cash CPQ Implementation
We created guided selling processes to eliminate manual tasks and the use of
external spreadsheets drove a faster and more simple quotation process. Additionally, we provided flexible solutions to allow customization and personalization.
2. Functionality Reduces Quotation Time
We deployed Product Favorites that enabled sales reps to save favorite products and configure bundles. Additionally, we designed Conga templates to populate standard quantity levels, descriptions, and associated price levels. Functionality reduced quotation time from six minutes to 30 seconds.
3. Revenue Growth with Product Grouping
The automation process added a secondary "recommended" product group in addition to the primary products requested by the customer. The second grouping drives revenue with minimal additional sales effort.
4. Quotation Clarity Enhances Customer Satisfaction
Quote enhancements provide well-defined pricing and discount information, decreasing post-quotation questions while enhancing sales and customer service experience.
At AdVic, our team will dive deep into your sales operations to understand the best ways to target your customer base so that a CPQ, along with billing and integration, will revolutionize your sales process. Let us show you how we'll do that today.
Related Resources:
Top 3 Reasons to Integrate Billing with Salesforce CPQ
*Images courtesy of Salesforce.com
Subscribe to the AdVic Salesforce Blog on Feedly: