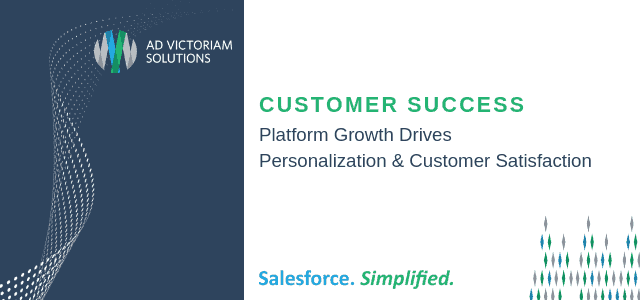 Platform Growth Drives Personalization and Customer Satisfaction
After interviewing, researching and "scoring" a number of implementation firms, DataScan selected Ad Victoriam Solutions to assist in a series of projects, starting with a clean-up and upgrade to Salesforce® Lightning on their Sales Cloud. These upgrades were necessitated as a result of DataScan operating in disparate systems and dealing with multiple sources of truth. They wanted a single platform within which they could manage and grow sales, service, and community.
AVS' Solution
Over the last three decades, DataScan has established itself as the industry leader in the wholesale asset finance technologies and risk management space. They provide technology and insights that help their customers to efficiently account for, protect and grow their business and manage their risk. A foundation of knowledge sharing, responsiveness, and commitment to growth underpins DataScan's relationship with its customers and feeds a collective passion for future-focused, proactive problem-solving.
Following a thorough examination of DataScan's issues, AdVic's consultants recommended a solution that included implementing and integrating Salesforce Service and Community Clouds in Lightning.
Prior to its new platform implementation, DataScan was utilizing Zendesk.
Steps to a Successful Platform Implementation
The carefully-crafted steps involved in DataScan's implementation were highlighted by these six:
– Customized the claim process to route tickets into a queue so agents could "claim" the ticket triggering a transfer of the ticket to the agent. This allowed agents to service tickets faster.
– Integrated products with case objects enabling DataScan to access needed data to support each of their customers' sandbox (software). This enabled visibility into their customers' sandboxes, allowing DataScan to provide higher quality, more personalized support, increasing customer satisfaction.
– Integrated data from DataScan's org into their account object so the service team can provide support based on DataScan's org. This step enhanced DataScan management's ability to make data-based decisions when needed.
– Routed all communications through the Community portal to allow for case comments and conditional highlighting indicating message origin. This implementation increased readability and sped-up communication digestibility.
– Designed a managed team process and workflows whereby each customer could self-assign licenses based on role and add permissions to profiles/hierarchy. Their customers also now have the ability to add new contacts, view those contacts and manage their own communication preferences. Providing this self-serve system for customers frees employees from these tasks to focus on other company initiatives.
– Built custom Communication objects, permissions, and document cloning triggers to enhance document management functionality from an "all or nothing" function enabling the ability to easily upload and download documents.

The skilled Ad Victoriam team of Sales Cloud developers and consultants are experienced in cloud computing, CRM and Salesforce solutions, delivering proven results to small and large businesses in any industry. We offer consultation, implementation, integration, and customization all of the Salesforce clouds to help grow your business. To get started today, click here.
Subscribe in a reader