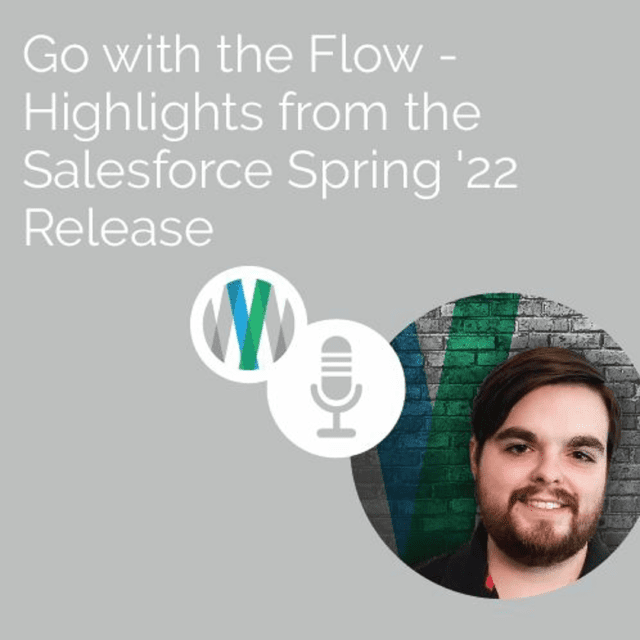 Go with the Flow – Highlights from the Salesforce Spring '22 Release
Episode Notes/Resources:
We've invited back to the Salesforce Simplified podcast our Salesforce Release guru, AdVic Revenue Cloud Practice Lead Aaron Chamblee, to talk about some of his favorites new features in the Salesforce Spring '22 Release, focusing this time on automation, and specifically "flow."
Salesforce's Spring '22 Release Notes: https://sforce.co/3JCEoVv.
Go with the Flow – Highlights from the Salesforce Spring '22 Release (AdVic Blog): https://bit.ly/3Gj0XfU.
Transcription:
Mike Boyle
So, are you with me on this? There's nothing more that I'd like to talk about in the middle of winter here in the northern hemisphere than spring and to that end we have invited back to the salesforce simplified podcast. Our Salesforce Release guru AdVic's revenue cloud practice lead Aaron Chamblee to talk about some of his favorite new features in the upcoming Salesforce Spring '22 Release and we have him here on the podcast as many of you know, three times a year for the Salesforce Releases: spring, summer and winter. Hello, Aaron, welcome back, happy 2022!
Aaron Chamblee
Hey, Mike, thanks for having me back and Happy New Year to you and everyone listening.
Mike Boyle
You know Aaron before we get into talking about some of the new features in the Salesforce Spring '22 Release that you'll be calling out here. I was wondering if you might talk a little bit about the hot topic in the salesforce world especially at this. Currently as we record this podcast and that's multi-factor authentication I believe that's kicking in on February first twenty twenty two can you give us an update to tell us a little bit about that.
Aaron Chamblee
Yes, that is a big update that will be pushed as part of the Spring '22 Release so starting in February everyone will need to have some form of multi-factor authentication or MFA as you'll see online a lot. Enabled for their salesforce or this shouldn't come as too much of a surprise because they've been alluding to it and even saying they would enforce it last year but now it's actually going to be in force starting February first so if you haven't started looking into this. Yet I highly recommend you jump on it. You don't want to be caught by surprise.
Mike Boyle
And as I always do I will put a link here in the show notes directly to the Salesforce Spring '22 Release notes and if you do a search for multi-factor authentication, there's a bunch of little articles that'll pop up there for you and give you a little bit more information about that. So thanks for that Aaron, and here we go… You have poured through the new features in the upcoming Salesforce Spring '22 Release and highlighted the ones you are most excited about. We're focusing this time on automation. And specifically flow, I understand, so let's take a look at these six particular release platform highlights and we'll start with the first one: "Enable stronger protection for your user's personal information." What's behind that one?
Aaron Chamblee
Yes, So just like we were talking about with the MFA requirement, there have been a number of new features to increase the security within your Salesforce Org One of these is. Enabling Stronger protection for the PII or Personal Identifiable Information. This is specifically for Communities. So think external users not typically your internal employees, but anyone that you're having access to a site tied to your Salesforce org. Permission can be turned on within the setup menu for different profiles and it can even be customized with field sets in case you're using any custom fields that might qualify as PII information. This is a really good update as it's always important, especially with the privacy laws, that no matter where you're at to make sure that you're protecting your user's information and this simplifies the process. So be on the lookout for this one.
Mike Boyle
Number 2 on our Salesforce Spring '22 Release callout list here today is: "Visualize all your record triggered flows in one place with Flow Trigger Explorer"… Tell me about that one.
Aaron Chamblee
Yes, so a big part of this update was also focused on automation. Normally we cover some more product specific updates that are exciting. But with this one, the big focus is going to be on automation in general across the platform. Salesforce recently announced that all process builders and workflow rules will eventually be deprecated and they're going to be coming out with a tool, which we'll briefly talk about later, to migrate these automation types to flow. So, if you're not comfortable with flow already, you should definitely start learning. Go out on Trailhead and start picking it up because this will be the future and this really specifically the ability to visualize all of your record triggered flows as these are going to become the one stop for your automation. This is going to provide a nice way to debug and actually see visually everything going on for a single object within one view. So, as we're going to be creating more flows in the future, this is also a way to manage them better. So, it's really exciting to see this already coming out well in advance of the deprecation of the other automation tools.