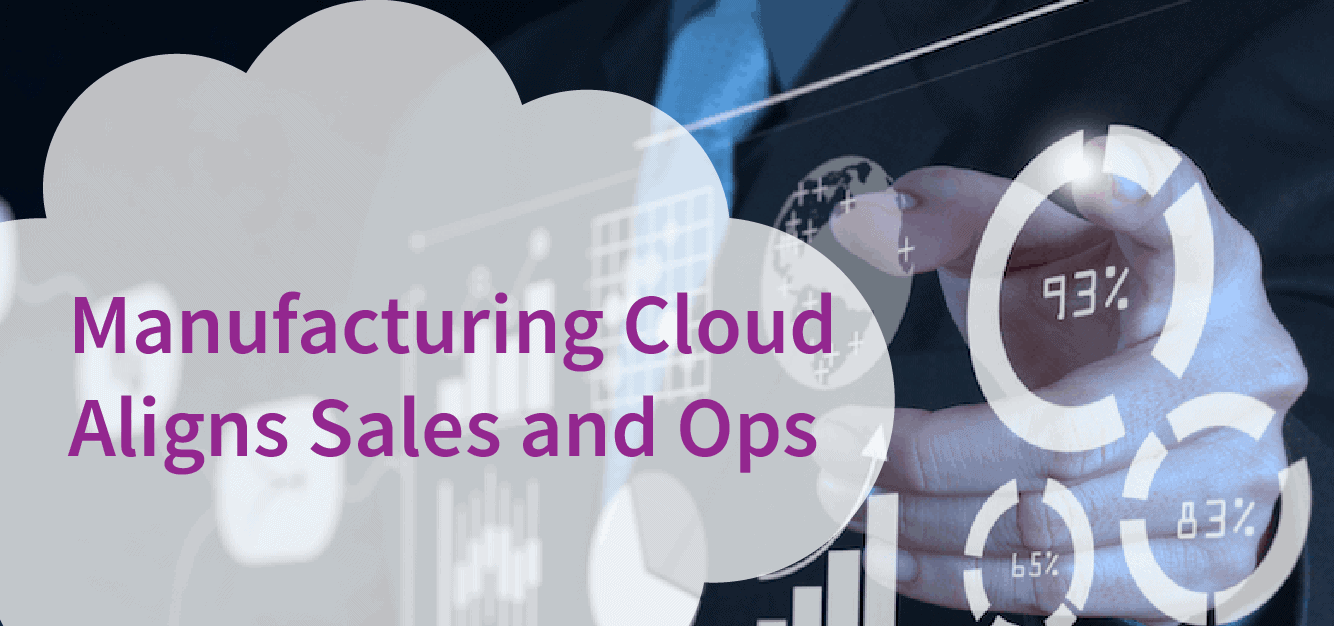 Manufacturing Cloud Aligns Sales and Ops
Success in today's manufacturing industry is dependent on stellar products and exceeding customer demand by producing and delivering those products in an efficient manner. That means aligning sales and operations.
Step one in that process means making sure account teams have the needed visibility into a complete overview of a customer's business. That includes a clear and concise view of current business and new opportunities. Having this critical 360-degree view leads to more accurate forecasting, more predictable business, and ultimately, more revenue.
The Manufacturing Dilemma
Always top of mind for every stakeholder in the manufacturing space is predictability. Customers demand guarantees when it comes to pricing, availability, and promised delivery. Distribution partners want optimized delivery channels, and sales teams want pricing based on real-time volume predictions. Additionally, operations teams want to produce based on the most accurate demand.
To figure out this dilemma, manufacturers need a clear understanding of numerous components. Those would include a comprehensive look at past shipments, current production plans, and future production forecasts. However, the challenge most manufacturers face is information silos across multiple legacy systems, including CRM, ERP, and supply chain planning systems. Not only that but oftentimes there are various teams involved. Those scenarios not only slow the process down, but it also makes the sales and operations process extremely blurry. Inevitably, sales and distribution partners — the ones closest to the customer — are not accurately represented.
So, knowing what we know about the current state of manufacturing operations, there is an unprecedented opportunity for manufacturers to not only link customers, distribution partners, and sales teams but bring much-needed change to their operational planning missions. Manufacturing leaders with this vision are destined to establish a new level of connection and engagement with their customers. However, getting there will require universal access to previously siloed data, plus the ability to extract insights from that data.
Meet Salesforce's Manufacturing Cloud
Salesforce's Manufacturing Cloud was created to align sales and operations. The intended focus was engineered to enhance the sales forecasting process and to extend the planning process to partners. As a result, Manufacturing Cloud's main features include:
Sales Agreements to unify manufacturers' run rate business with ERP data and order management systems. Contract terms such as volume and revenue are available for operations and sales teams to view the customer holistically. If changes to agreements are made, they are incorporated in the Manufacturing Cloud.
Account-Based Forecasting to unify sales, finance, and operations in one view. Planning and forecasting are adjusted in real-time for profits, revenue, and transactions.
Einstein Analytics with account health, demand planning, product penetration, and sales agreements as well as key performance integrators.
Community Cloud for Manufacturing delivers a new pre-built template specific for manufacturers that extends sales agreements to channel partners, allowing them to easily collaborate together on leads and opportunities.
Additionally, adding MuleSoft's Anypoint Platform unlocks data from any application, data source or device—whether that data is on-premise or in the cloud. By enabling organizations to connect Manufacturing Cloud with other systems, sales and operations leaders can automate the complete order-to-cash process, create a comprehensive forecast view and drive business process automation across all sales channels.
Are you a manufacturer looking to streamline operations, secure data, and gain a 360-degree view of customer profiles? Watch this recent AdVic webinar: "Harnessing Data & Automation to Drive Sales Performance — Making Data Actionable."
And if you are a manufacturer looking to connect your technologies to build a seamless and collaborative relationship with your customers, ensuring your ability to compete in today's marketplace, allow Ad Victoriam's consultants to show you how to successfully accomplish that. You can reach us right now, here.
Subscribe in a reader