AdVic Named by Clutch as a Top 2022 B2B Company
Estimated reading time: 3 minutes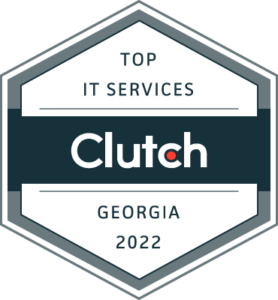 At Ad Victoriam Solutions (AdVic®), we focus on delivering specialized Salesforce® solutions to our partners. As a dedicated and innovative team of problem solvers, we take on your technology challenges and identify the best approach tailored to your business needs. We believe that technology should not limit your success, but accelerate your achievements.
Today, we're excited to announce that we've been recognized once again as one of the leading companies on Clutch, a business ratings platform. Their latest research shows that we're one of the top providers of IT consulting services in Georgia this year!
"We're very excited to be featured so highly across Clutch," remarks Ad Victoriam Solutions founder/CEO, Jeff Jones. "This designation is a testament to our innovative work and dedication to our clients' success. We look forward to connecting with many more new businesses in Georgia and beyond."
Widely known as a B2B ratings and reviews platform, Clutch is committed to connecting businesses with competent service providers. Clutch cuts through disorganized market research by interviewing clients of registered vendors directly. In doing so, the platform provides timely, accurate, and trustworthy information about specific service providers around the world.
AdVic Reviews
Take a look at the reviews we've acquired since partnering with Clutch:
"Ad Victoriam understood our business and our customers' needs."
— Monique Andrade, National Customer Satisfaction Manager, Polyglass USA
"Their breadth of expertise across all aspects of the platform was impressive."
— Former Executive Director, IT Company
"By walking us through the process and documenting everything, they've made us more self-reliant."
— Debbie Farley, Salesforce Administrator, Carauster
Thank you so much to our partners for taking the time to leave their honest feedback about our work. Find out more about our projects by reading the full case studies on our Clutch profile today.
If you need high-level Salesforce consulting solutions, be sure to get in touch right away!
Ad Victoriam is a Salesforce® and MuleSoft® Partner that provides multi-cloud consulting services, from strategy to implementation. Our nimble team of certified professionals across the United States accelerates businesses by simplifying complex problems through cloud and data expertise. As a Certified B Corp, we balance purpose with profits and have made a strong commitment to the community.
Subscribe to the AdVic Salesforce Blog on Feedly: