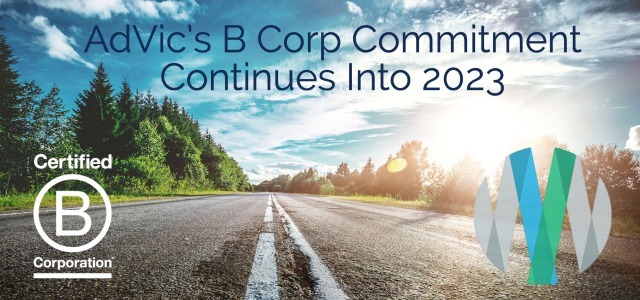 AdVic's B Corp Commitment Continues Into 2023
Estimated reading time: 0 minutes
Back in early 2016, AdVic® started its journey towards B Corp certification. At the time, there were only around 1,500 B Corps around the world and only six in our home state of Georgia (there are now 6,100+ and 24 in Georgia).
What appealed most to us about the certification was the rigor with which it validated and verified our performance in its five key sections: governance, workers, community, environment, and customers.
We officially became certified in January of 2018 and finished our first recertification, required by the certifying nonprofit B Lab every three years, in 2021. We'll be up for recertification in early 2024, but we put ourselves through the B Impact Assessment at the end of every year, giving ourselves a score for the year gone by and using it as a basis for the next year's strategic plans.
AdVic's B Corp Highlights to Date
We recently completed the aforementioned annual B Impact Assessment and are excited to announce that our own score, albeit unverified, has improved since our last recertification, and includes opportunities to improve it even further in 2023, setting us up for another successful recertification in early 2024. Here are some of the highlights:
For the past two years, we have been working with

We Are Neutral

to offset our Scopes 1, 2, & 3 GhG emissions, which includes our two offices (and our remote team's home offices), and all business travel.

We've continued our commitment to

Pledge 1%

, donating a combined 1%+ of revenue in the form of volunteer time, pro bono work, and charitable donations. In 2022, we finished right around 1.5%, marking the sixth consecutive year we've surpassed our commitment.

2022 also saw us strengthen our commitment to diversity, equity, and inclusion in the

Salesforce

®

community. On top of regular donations and employee matched donations to organizations like

HYPE

and

TechForward

, we also sponsored the first annual

Dreamin' In Color

conference.
This process of self-evaluation is a powerful tool and an important step in becoming a better version of ourselves every year. It gives us a chance to set targets for improvement, holds us accountable to previous year goals, and see where we surpassed our expectations or fell a little bit short.
If you're interested in learning more about the B Corp certification process, we invite you to reach out to us. And if you're just interested in learning more about how we use it, year in and year out, to evaluate our own commitments to using our business as a force for good, we're happy to help you with that as well. And we look forward to celebrating our recertification with all of our stakeholders in 2024!
Related Resources:
Subscribe to the AdVic Salesforce Blog on Feedly: