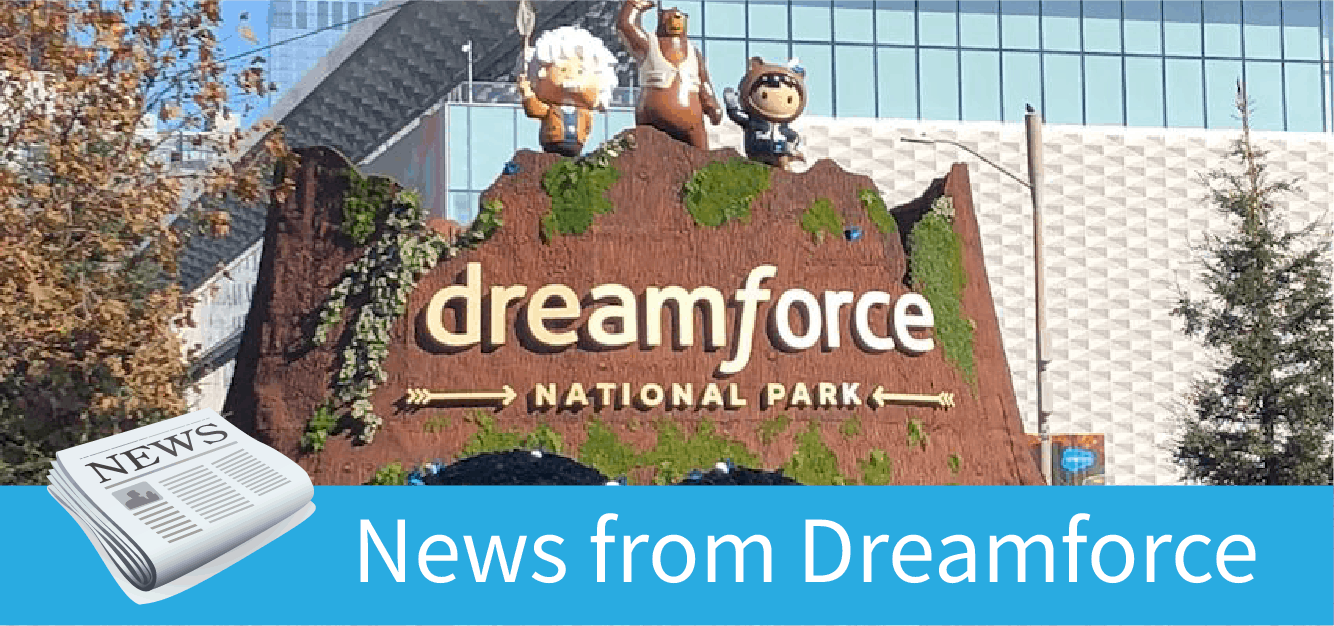 News from Dreamforce 2019
Was it the Fireside Chat with Salesforce Chairman/Co-CEO Marc Benioff and Apple CEO Tim Cook that was the highlight for you at Dreamforce 2019? Maybe it was the conversation with former President Barack Obama or exhibits you saw in the Dreamforce Campground? Perhaps it was a specific session you attended or Fleetwood Mac's awesome performance, or even dare we say Ad Victoriam's "sold-out" Taco Tuesday?
The answer will not be the same for every attendee, but amidst all of that excitement, there was some Salesforce news that came out of Dreamforce that you may have missed, and AdVic has capsulized a few of the highlights for you – as per Salesforce – here.
Introducing Customer 360 Truth
Salesforce Customer 360 is one integrated CRM platform that brings companies and customers together. And now with Customer 360 Truth, companies can unify all of their data across all touch-points so they can build a source of truth about their customers. Customer 360 Truth connects customer data, authenticates identity, governs privacy, segments audiences, and personalizes experiences.
Customer 360 Truth's featured capabilities include:
Customer 360 Data Manager, which connects sales, service, marketing, and commerce customer data into a single global ID to deliver unified cross-channel experiences. With Data Manager, companies always have a complete, up-to-date, contextually relevant profile of every customer.
Salesforce Identity for Customers — their authentication service — provides a consistent, secure customer login across a company's digital properties.
Salesforce Privacy and Data Governance provide customers and business users with the ability to manage privacy, consent, and preferences via one single application.
Customer 360 Audiences enables companies to capture, unify, activate, and analyze customer data at scale.
Apple and Salesforce Collaborate on the Best Devices for Business
Salesforce's Marc Benioff and Apple's Tim Cook spoke extensively about their companies' strategic partnership (originally announced at Dreamforce '18) during their opening day Dreamforce Fireside Chat. This strategic partnership strikes again with two exciting flagship apps and the next-generation Salesforce Mobile SDK:
The Salesforce Mobile App, powered by AI and reimagined for iOS, delivers a powerful new user experience enabled by Einstein, with advanced analytics and features exclusive to iOS, including Siri shortcuts and Face ID. Download the Salesforce Mobile App on iOS.
Trailhead GO, the first-ever mobile app for Trailhead, exclusive to iOS and iPadOS, empowers learners to skill up anywhere and at any time with more than 700 modules covering in-demand business and tech skills. Download the new Trailhead GO app on iOS.
The new Salesforce Mobile SDK, optimized for Swift and iOS 13, enables Salesforce developers to quickly build and deploy native Salesforce apps for iPhone and iPad. Get started with the Salesforce Mobile SDK for iOS (8.0 coming in January).
"Hey Einstein" — Salesforce Brings Voice to the Workplace
Salesforce brings powerful voice technology to CRM with Einstein Voice, giving millions of Salesforce users a customized, voice-activated interface for their apps. Here are some upcoming features:
Einstein Voice Assistant and Einstein Voice Skills (beta Spring '20): Salesforce is expanding the Einstein Voice portfolio by introducing Einstein Voice Skills, which allows every Salesforce admin to create custom versions of the Voice Assistant for every user, whether they're a sales rep, sales manager, service agent, marketer, etc.
Einstein Call Coaching (GA Winter '20): Gain management-level visibility into your sales teams' conversations through natural language processing that identifies keywords in sales calls so managers can quickly understand trends like a spike in competitor mentions, or best practices from the top performers.
Service Cloud Voice (GA Summer '20): With Service Cloud Voice, telephony will be natively integrated with Service Cloud, allowing Einstein to read keywords from call transcriptions in realtime and serve up the right knowledge articles and next-best actions for agents, reducing time spent on cases.
Salesforce and Amazon Web Services Expand Global Partnership
According to Salesforce, this announcement includes:
Faster, smarter customer service: Salesforce is introducing Service Cloud Voice, a new offering that seamlessly embeds Amazon Connect to provide contact center agents with a complete set of tools in their agent workspace to deliver enhanced customer service support. As part of its Service Cloud Voice offering, Salesforce will now offer Amazon Connect, a simple-to-use cloud contact center service from AWS that makes it easy for organizations to deliver better customer service.
Empowering everyone to skill up for the future: AWS and Trailhead are partnering to address the growing technology skills gap. The first step in this partnership is bringing AWS Cloud Practitioner
Essentials learning to Trailhead, with additional learning forthcoming.
Einstein Voice Skills on Alexa: Salesforce is continuing its commitment to the Voice Interoperability Initiative by exploring ways to integrate Einstein Voice Skills with Amazon Alexa and other voice assistants and devices in the future.
Ad Victoriam's certified Salesforce consultants are up-to-speed with all of these newly announced services and are ready to discuss how they can help your business starting today! Reach us right now, here.
Subscribe in a reader