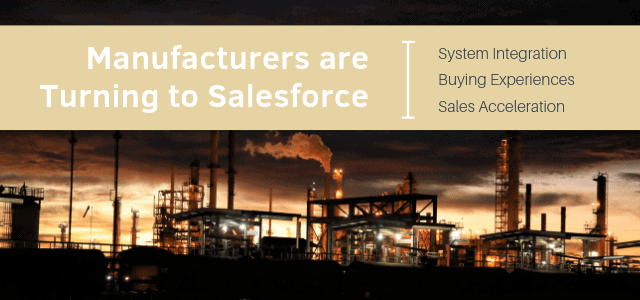 Manufacturers are Turning to Salesforce
Do you need to increase efficiencies so that you can out-pace your competition? Do you need more opportunities in your pipeline? Maybe it's clear, actionable information so that you can make better business decisions? All great reasons manufacturers around the world are turning to the Salesforce® platform to deliver a fully customizable customer experience through every interaction.
What Can the Salesforce Platform Do for Your Business?
Well, how about streamlining your operations, gaining access to real-time actionable data, personalizing your customer's experiences and driving sales?
Here's just a snapshot of what manufacturers have experienced from a Salesforce implementation:
Extend Salesforce to Your Channel Partners
Manufacturers can easily collaborate with dealers and distributors on sales, service, and more. Quickly address service inquiries, close more deals, and open more opportunities to grow revenue.
Integration of Your CRM and ERP Systems
Sharing information and providing visibility into both frontend and backend systems increases productivity and simplifies the business process. With CRM and ERP integration, your company can focus more on driving new business based on real-time data and less on manually tracking data in spreadsheets.
Create Powerful Online Buying Experiences
Transform your online purchasing process. Tailor product mixes, pricing agreements, and contracts to customers' specific needs. Deliver friction-free service and warranty experiences that boost confidence in your products.
Spot Trends to Accelerate Sales
Reports and dashboards give executives, sales leaders, and operations teams real-time insights on lead performance. Slice and dice lead data by customer, geography, source, and products to uncover trends that close deals faster. Identify your hottest leads and accelerate key opportunities to crush sales goals.
The Manufacturer's Solution
Manufacturers all over the world are working to build closer relationships with their customers. The need for real-time information has never been greater because, in order to build amazing customer relationships, manufacturers need a single and up-to-date view of them. As a Salesforce Platinum Partner™, Ad Victoriam has seen pretty much everything and can make your manufacturing enterprise software run like a well-oiled machine.
Read about one of AdVic's recent manufacturing success stories here, or watch this webinar to learn more about what the Salesforce platform can do. Then, if you want to know how Ad Victoriam can get to work for you today and help you execute a plan for better manufacturing efficiencies, click here.
Subscribe in a reader