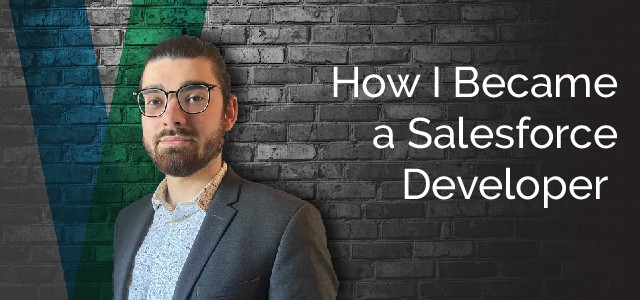 How I Became a Salesforce Developer
Estimated reading time: 3 minutes
From a background that included waiting tables and grading papers, AdVic's Chase Brammer took a leap of faith in his career path that has landed him in the Salesforce ecosystem. As you can imagine, it was not an easy path, but after putting in the hours in the Salesforce Pathfinder Training Program, and watching related YouTube videos, Chase gained the confidence and knowledge to conquer the Salesforce Platform Developer I  exam.
Chase's journey into the tech world, while not a unique story, is a story of perseverance, which led him to his current position as a Salesforce Developer Analyst at AdVic.
In the first of a series of team member career path stories, here's a look at how Chase and AdVic found each other…
Preparing for the Transition into the Technology of Salesforce
After losing previous role due to COVID-19, Chase realized that his situation did not align with his goals and aspirations. He explains, "I asked myself, 'What can I do that I have not tried yet?'" He says his most valuable and transferable skills included customer service, troubleshooting, patience, empathy, and camaraderie.
After hearing about computer programming and how it aligned with his skills and personality, Chase took the first step and registered for a class at his local community college and watched a coding tutorial for C++. It was that experience that introduced him to the technology of Salesforce. 
Why Salesforce?
A professor recommended the Salesforce Pathfinder program to Chase. As he started doing his research about the program, he became more interested. He especially admired Salesforce for their openness to people of all industries and backgrounds. Chase says he now, "Enjoys being a part of such a helpful community." 
The Journey to Becoming a Salesforce Developer Analyst
Chase describes his initial job search process as "brutal." He says that the constant "thanks, but no thanks," and being ghosted by recruiters took a toll on his image of self-worth. He became concerned about wasting his time and job availability. 
But Chase stayed the course and truly believed, "There will be enough jobs, and with continued practice I will be good enough."
And good enough he was and more, as Chase recently secured his current position with AdVic. He's proud to say he did it by:
"Putting my best foot forward when speaking to recruiters and other Salesforce consultants."

"Seeking out mentorship." 

"Using

LinkedIn

to network."
Chases' Best Advice to Others in Career Transition
"In the midst of the transition, truly want it and be willing to do the work," Chase advises others who might be mirroring his journey. "This is the equation to a successful career transition."
He adds, "What does this mean? Be you, be honest, sharpen your skill set and use LinkedIn to network!"
Chase's Long-Term Career Goal?
Now that Chase has a job in the Salesforce ecosystem with AdVic, he is exposed to different avenues that he can explore. He says he is still "deciding on a long-term career goal," however he understands that in order to move up, he must fully grasp and master the role he is in now, and adds, "I'm confident that AdVic will help me achieve great success as a Salesforce Developer."
Ready to define your career as a Salesforce Analyst? Ad Victoriam Solutions is looking for college graduates (or students in their last semester) with a passion for technology and an eagerness to continuously learn more and expand their skill set. The Salesforce Analyst is an entry-level position perfect for someone who is eager to learn and advance quickly in the Salesforce field. Don't worry if you're not fluent in Salesforce, we'll help you get there! Details about our Elevate Program here. 
Follow in a Reader