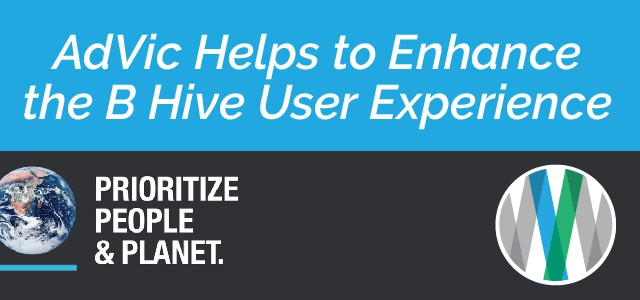 AdVic Helps to Enhance the B Hive User Experience
Estimated reading time: 5 minutes
By now, many consumers are aware of the B Corp Certification and can name a few of their favorite brands that use business as a force for good—such as Warby Parker, Cabot, Ben & Jerry's, and Seventh Generation. However, many people may not be aware that there are more than 3,600 other companies that are part of this global movement whose goal is redefining capitalism to work for everyone and for the long-term. Companies like Legacy Vacation Resorts, Decisely, Torani, Taos Ski Valley, DialougeDirect, Mighty Bytes, and Selflessly. Even members within the B Corp community can benefit from increased exposure to the many other B Corps in this network.
To that end, Ad Victoriam Solutions (AdVic) and Fors Marsh Group (FMG), two certified B Corps, recently teamed up on a project to help facilitate further community engagement via the B Hive platform.
AdVic's Project Role
On the B Hive platform, which is powered by Salesforce's Experience Cloud, employees of any B Corp can join the global community of thought leaders discussing everything from employee engagement to climate change. Silvia Laserna, B Lab's Director of Client Success, shares her vision for the B Hive as "a place where B Corps can get informed, be inspired, and connect to each other, so they can leverage their collective voice and improve their impact." The pro bono contributions that AdVic and FMG provided are helping to turn that vision into reality.
AdVic has ensured that the B Hive is now more accessible and easier for B Corp employees to join. Shortening the sign-up process and giving new users a quick introduction on how to get the most out of the platform has helped B Lab increase their new member engagement rate. The company also added new features to the site, making it easier for B Lab to offer discounts and ask questions of the community, while also improving reporting and security features.
"This partnership was everything the B Corp movement is about, with a for-profit corporation donating their time and expertise to a nonprofit organization with the hope of adding value to their fellow B Corps," AdVic's CEO, Jeff Jones remarks. "This project gave our consultants a wonderful opportunity to engage with B Lab and the greater B Corp community."
Laserna expressed that "Ad Victoriam Solutions made the perfect partner because they understood Salesforce and what it means to be a B Corp. The fact that they did [the work] pro bono speaks to their commitment to the B Corp community and their desire to see the shared success of companies using business as a force for good."
FMG's Project Role
FMG conducted predevelopment research and strategic planning that was integral to creating and launching the Marketplace within the B Hive. This new Marketplace allows B Corps to easily source products and services from others in the community—simply put, the goal is to encourage the community to "Buy from Bs." According to a B Corp community survey that FMG conducted in 2020, the key benefits that B Corps desire from the community include making business connections, sharing best practices, and promoting themselves within the B Corp community. With the recent upgrades to the B Hive and the Marketplace, B Corp employees can more easily connect with other B Corps.
FMG conducted additional research with members of the B Corp community to inform feature recommendations for the Marketplace. FMG also provided B Lab with a road map to continuously improve the B Hive's overall user experience. Matt Escoubas, Director of Special Initiatives at FMG, stated, "B Corps working together is not only good for business, it's good for the world. FMG believes looking first within our B Corp community of partners and suppliers when making purchasing decisions is central to the growth of the movement. We are excited to put this resource into action, and what better place to do it than B Hive?"
Laserna added, "In light of the pandemic, the B Hive has become a central space where B Corps come together to connect, share, and be stronger together in ways that are not currently possible in person. Although this does not replace the magical experience of sharing space and physical proximity, we are grateful to have a platform where we can continue to gather, support, and nurture each other. It has been great to see all those dedicated B Corp users who continue to sign in, read, interact, and keep building relationships. Thanks to Ad Victoriam and Fors Marsh Group, those B Corps will have a better user experience on the B Hive, which will translate into more collaborations, stronger relationships, and a more impactful community."
"B" the Change
AdVic's involvement with this project was a part of our Victory Project. As a B Corp and a member of Pledge 1%, we are committed to hitting this goal on two fronts, with 1% of our revenue donated in the form of pro bono consulting for nonprofits like B Lab and another 1% of our revenue donated through employee volunteer time. In addition to this project, our 2021 plans include a Salesforce-based workforce development program with Goodwill of North Georgia, as well as two all-volunteer consulting weekends helping local nonprofits implement Salesforce.
If you are already a part of the B Hive, we hope you like the improvements. If you work for a certified B Corp, we invite you to join the online community and consider how you can support or partner with other B Corps. And if you have been thinking about certifying and have questions, reach out to AdVic — we are happy to help!
More B Corporation Blogs from AdVic
Follow in a Reader