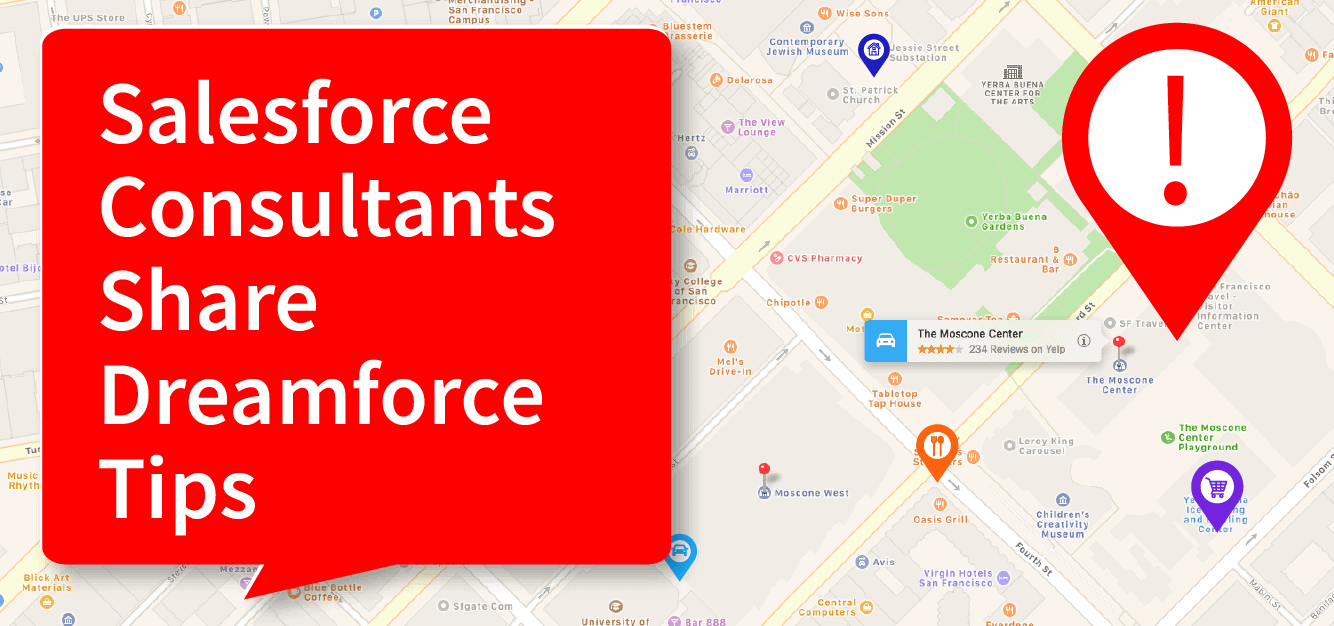 Salesforce Consultants Share Dreamforce Tips
As the excitement continues to build for Salesforce's highly anticipated Dreamforce 2019, Ad Victoriam polled our seasoned Dreamforce-attending veteran consultants for tips on how to make the most of your time there, especially if you are a newbie Trailblazer on your first adventure.
What to Wear/Bring
1. With over 2,700 Dreamforce sessions and workshops, exhibits, and just general running around, you'll absolutely want to wear comfortable shoes as you take in as much as your time allows. But be sure to pack your dancing shoes, too, for all the fun nighttime festivities.
2. As for what to wear, remember that it may be warm outside, it's cooler inside in the air conditioning, so bring an extra layer for inside, just in case. Oh, and it has been known to rain in the City by the Bay, so a small umbrella for your backpack could come in handy.
3. Best to pack light. You're most likely going to need room to carry around all the cool swag you'll acquire.
4. Speaking of packing light, if you need to bring a laptop, bring a small one, as you'll do a lot of walking, plus having one with you gives you access to Salesforce and your favorite developer tools to try out some cool things you just learned. And, hey, you may even knock-out a few Trailhead modules, too!
5. Don't forget you'll need to power up – a lot! That means remember to pack all the power cords you need for recharging your arsenal of gadgets, including any portable power devices you have, too.
How to Plan Your Days
1. Sign up for your session early, but before you do, ask yourself what your top three goals to learn are and plan your agenda with those goals in mind. And most of all, do not overbook yourself (see No. 2).
2. Pace yourself! Do not try to do it all, you'll wear yourself out, and quickly! Pick 1-2 sessions a day (ones you REALLY will benefit from), and spend your time in between time networking
3. Don't forget to leave gaps in your Dreamforce schedule. Doing that will give you enough time to get to your next session. You may need to refuel with a quick snack on your way to that next session or meeting.
How to Network
1. Have fun. Don't be afraid to approach people with a question or comment.
2. Remember that people attending the same Dreamforce sessions you are most likely to have the same interests you do, so start a conversation. Make a new Trailblazer friend or two and ask him or her before the session what they hope to get out of it.
3. Ask others what sessions they have already attended and what they have gotten out of them.
4. Remember this mantra: Learn. Share, Network.
5. A great place to practice all of the above networking tips you just learned will be the Dreamforce Expo.
The Road to Dreamforce
Lastly, an absolute must-do is making it a point to watch "The Road to Dreamforce." This is your go-to live broadcast for everything Dreamforce-related. It airs Tuesdays at 11:00 a.m. PT. Each of the 11 episodes will provide a deep dive into topics including Dreamforce programs, top sessions to attend, newbie tips, and more.
However, probably the best piece of advice we can offer is to remember that Dreamforce is an amazing experience and with a little preparation, you can make it even more rewarding.

The Ad Victoriam team will be at Dreamforce, too, so if you would like to meet up, email us at CustomerService@AdVictoriamSolutions.com or schedule your meeting today.
Hope to see you there!
Subscribe in a reader