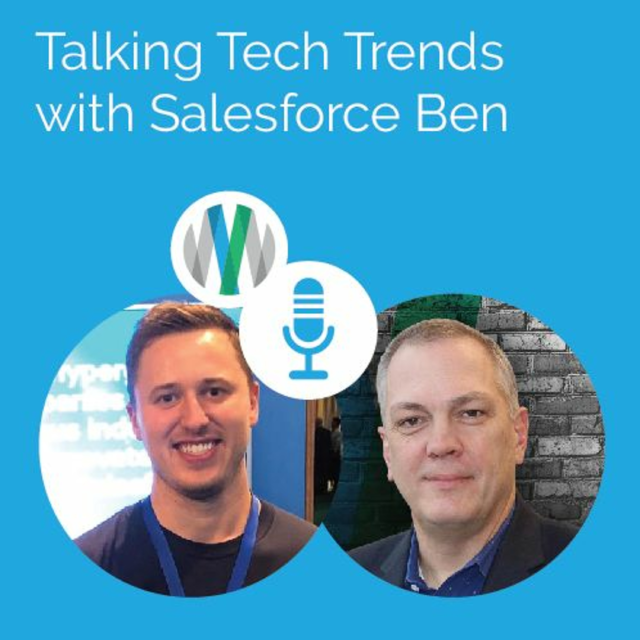 Talking Tech Trends with Salesforce Ben
Tech Trends – today's biggest buzz topics, as well as the tech trends on the horizon for Salesforce – are the topics of this episode of "Salesforce Simplified." To discuss these topics, our guests are the Founder & Co-Editor of London-based Salesforce Ben, Ben McCarthy, who is also a Non-Executive Director at Cloud Orca, a London-based Consultancy, and the President of Ad Victoriam Solutions, Brian Mize.
Episode Notes/Resources:
Salesforce Ben: https://www.salesforceben.com/
Transform Technology Headaches Into Success: https://bit.ly/3xG4vE7
Transcription:
Mike Boyle:
Well, hello and welcome everyone. I'm Mike Boyle from Ad Victoriam Solutions, and I am really, really excited for today's topic. It's technology trends. Today's biggest buzz topics, as well as the technology trends that could be on the horizon for Salesforce. And to discuss these topics for this episode of Salesforce Simplified, it's my great honor to welcome the founder and co-editor of London-based Salesforce, Ben, Ben McCarthy, who is also a non-executive director at Cloud Orca, a London-based consultancy. And I'm also thrilled to welcome the president of Ad Victoriam Solutions, Brian Mize. Gentlemen, good day. Thank you for joining us. Welcome.
Ben McCarthy:
Thank you, Mike. Glad to be on.
Brian Mize:
Thanks for the opportunity. Glad to be here.
Mike Boyle:
Great to have you both with us. So we have, guys, as you know, seven or eight tech trend topics that we want to chat about here on the program, and the first one is one that is not unfamiliar to most folks, and that's artificial intelligence or AI. And Ben, what's going on with AI today? What are you seeing?
Ben McCarthy:
Yeah. I mean, I guess my knowledge of AI is mostly restricted to Salesforce, be it living and breathing in the Salesforce world. But I think it's really exciting. I think Salesforce obviously went on that massive AI acquisition spree, God, was it 2017, 2018? I think they acquired about 12 companies all focused around AI. And then we saw a slow rollout of all these AI features in every single one of their clouds, which was obviously called Einstein as the AI platform. I think there's a huge amount of potential still and I don't think we've reached a peak of implementation. I think Salesforce released some stats the other day of how many predictions their AI engines were completing every day, and it was an astounding amount, but I'm not seeing AI in every single implementation.
I think something that would definitely help this is a couple of releases ago, Salesforce brought out, I can't remember the exact name to them, but generic models that smaller organizations could use. Because before they brought out that, you had to have something like, let's take Opportunities in Salesforce, for example. You needed something like, I can't remember the exact number, but 500 or something like that, closed one opportunities to give the AI engines enough data to be able to glean some insights on open opportunities to tell you how likely it was going to close or not. But they brought out these generic models, which I assume are generated from the huge amounts of data they have. So I think that's a real step forward because it's going to allow small businesses, medium businesses to be able to implement AI.
But I think the amount of features that Salesforce has brought out now, one that comes to mind is the prediction engine in marketing cloud. It can kind of choose which journey to send customers on based on loads of data points, I think is really cool. So yeah, I think we're starting to see some practical implications of it, but I think there is a huge amount to go when it comes to AI and implementing it in organizations.
Mike Boyle:
And Brian, what are your thoughts on where AI is today? What's going on?
Brian Mize:
Certainly agree with everything that Ben said. I think as we look back over the last few years, especially as the pandemic has taken hold about two years ago now, we've seen a huge increase in AI as it pertains, not just to Salesforce, but I think across the world with remote workforces and people who still, as they interact with businesses, they still want that person feel. And that's really one of the benefits of AI is the ability to sometimes have that, the ability for people on the other end to make better decisions and to provide a better experience overall.:
I think some of the challenges with it will be, and moving forward certainly we are, I think, on the leading edge of it in many ways, moving forward, certainly the ethics around it, making sure that customers still feel like they are getting that white glove experience as [inaudible [00:04:22] that they're still interacting with a person. AI, at the end of the day, people still aren't fully comfortable with it for a number of reasons. They want to know that they have a person on the other end, and I think with what Salesforce is doing with AI, and bots, and a number of other avenues, they're still able to deliver that. I think that is going to be really where the benefit is doing more with fewer people, and taking care of broader expenses of your audience, telling your story a little bit better through AI.
Mike Boyle:
Brian, the next topic is one that is no longer just relegated to IT teams. I mean, businesses from top to bottom, doesn't matter who, are concerned with cybersecurity. What do you see going on with cybersecurity these days?
Brian Mize:
Well, when we talk again about what Salesforce has done with it through Shield or through a number of other areas, of protecting your data, multifactor authentication, making sure that you can lock down access to your systems where they are, these are all designed to take measures to enhance cybersecurity, making sure that your data is safe wherever it is. And again, we see that across all areas of society, across all governments worldwide. Governments are forming teams of cybersecurity professionals in various places so that at national data all the way down to individual data can be protected. We have borderlines that data can't cross from one country to another, one geo to another.
Brian Mize:
Protecting that in a way that people know that when they're interacting with a company, when they're interacting with a business, when they are giving their data away, that it's going to be safe, it's going to be protected, and it's going to be treated with the value that it really is. That is their identity when they're online. As AI continues to increase, so will cybersecurity because, again, you have more data, you have more data flowing back and forth, which gives more potential for data breaches, more potential for exploiting weaknesses and systems. These two things are going to grow together as we look into the future.