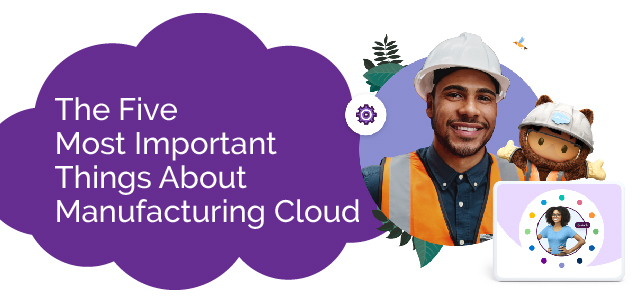 The Five Most Important Things About Manufacturing Cloud
Estimated reading time: 2 minutes
So, first, what exactly is Salesforce Manufacturing Cloud? It's an AI-powered, cloud-based management system that is built to meet the needs of today's manufacturing industry. With Manufacturing Cloud, manufacturers can gain visibility across their entire business and improve predictability with unified forecasts. In addition, the platform offers pre-built objects, processes, frameworks, low-code tools, and overall unparalleled innovation that allows manufacturers to compete and stand out for their customers.
The Manufacturing Cloud 'Big Five'
Just like in any other industry, your manufacturing business won't run like a well-oiled machine without the right parts, processes, and people. To that end, here are the five most important things that a Manufacturing Cloud solution will do for your team:
Simplify Communication and Collaboration

– Enhance employee productivity by helping business siloes coordinate and work together.

Utilize Advanced Analytics

– Gain insights into sales agreements, pricing, and product performance across multiple segments.

Modernize Inventory Management

– Track customer demand to accurately manage stock and inventory.

Integrate with your ERP

– Compare your planned revenue and quantity amounts to actuals in your ERP system to make important business decisions.

Streamline Business Process

– Eliminate tiresome manual steps and human error while meeting your targets.
But, Wait: Meet Manufacturing Cloud Accelerator
Manufacturing Cloud Accelerator from AdVic® is a pre-packaged suite of Salesforce features specifically tailored for customer-centric manufacturing companies ready-made and ready to launch. That takes your transition time to weeks – not months! 
And best of all, with Manufacturing Cloud Accelerator's powerful insights, you can create detailed customer projections, based on real numbers, month-to-month, which keeps your pipeline moving and keeps you on-track with your sales agreements. So, say goodbye to data silos and hello to a 360-degree view of your entire company's operations, keeping your teams in sync, while harnessing the full power of the Salesforce ecosystem.
Watch the video below for more information.
As a Top 25 Global Salesforce Partner, with deep manufacturing experience and an agile team of certified, U.S.-based experts, AdVic can lead your business to VICTORY! Let's start the conversation now! Pick a day and time – below – that works best for you to chat.
Related Resources:
Manufacturing Cloud Accelerator 
Manufacturing Clouds Aligns Sales and Ops